Get travel tips and book flight, hotel, car rental, attractions, tours, etc.
WHAT TO SEE AND WHAT TO DO IN NEVADA?
Grand Canyon, Las Vegas, Hoover Dam, Reno, Lake Tahoe, Virginia City, Valley of Fire State Park, Seven Magic Mountains are only a few of many amazing places in Nevada. Use our Nevada Travel Guide for information, idea and travel tips. Read our travel descriptions and see images and videos for inspiration. We have selected the best tours and activities for you, and we give our recommendations. We have researched, testet and and verified our partners, so you can enjoy easy and safe booking – on the GO!
NEVADA TRAVEL GUIDE VIDEO INSPIRATION
Capital: Carson City – 58.000 inhabitants
What is the population of Nevada? 2,9 million. Biggest city is Las Vegas with 553.000.
How big is the area of Nevada? 286.351 km2. United States 7th largest state.
Highest point: 4.005 meter – Boundary Peak
24 national parks, most know is Valley of Fire, Great Basin, Lake Tahoe, and Death Valley. Grand Canyon is not in Nevada, but borders up to the state line.
Nevada is know as "The Silver State". The state is also know for Area 51, Hoover Dam and nuclear tests.
See map: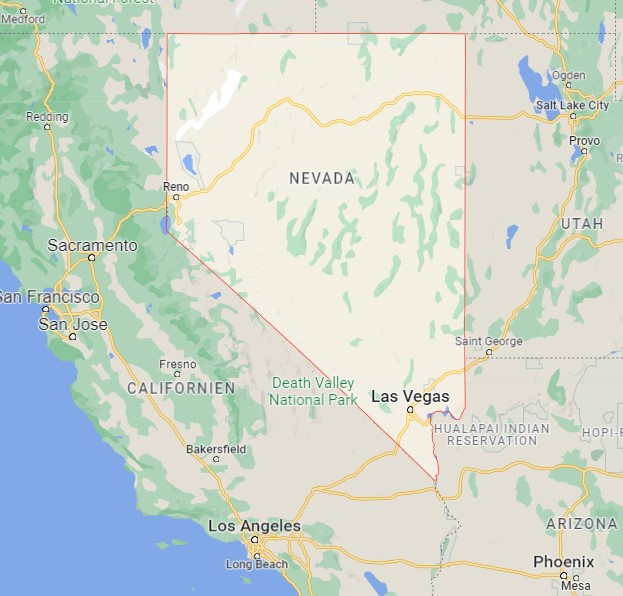 The history of Nevada
The first settlers from Europe arrived in the late 1700s. Until then, the area has been populated by Indians for more than 20,000 years. In the 1800s, gold diggers came and settled. In 1859 a large silver founds were made and the mining town of Virginia City was founded. Hence the name "The Silver State". In 1861 Nevada territory was separated from Utah, and in 1864 Nevada became a state in the United States.
During the 1870s the silver industry had a downfall, and many cities were abandoned, resulting in ghost towns. In the early 1930s, Nevada passed laws allowing prostitution and gambling, as well as simpler laws for marriage and divorce. This led to investments in casinos and luxury hotels, and cities like Las Vegas and Reno grew up. Due to this the economy had major boost which led to Nevada being one of the most prosperous in the United States.
What to see and what to do in Nevada?
Across the state, from nature to city adventures, unlimited experiences await in Nevada. Whether it's crossing deserts or attending music and art festivals, Nevada's landscape and culture are tailored to cowboys, visionaries and dreamers. Here are a few suggestions for activities and places to see:
Roadtrips
Roadtrips are the heart of the Nevada experience. Drive along the U.S. Highway 50 (known as the loneliest road in America) and pass over stunning mountain ranges while enjoying spectacular sights such as Great Basin National Park. Make a stop at historic mining towns and the ruins of Fort Churchill. On the way to Las Vegas, take US Highway 95 South and spend the night in Tonopah, which is known for having some of the darkest night skies in the United States. Visit the International Car Forest in Goldfield, then down to Rhyolite, which is just outside the city of Beatty.
Hoover Dam
The dam was built 80 years ago, and is a massive construction marvel. Located in the Black Canyon Hoover Dam is the highest concrete dam in the Western Hemisphere. Cross it via the walking bridge or take one of the interesting and exciting tours to learn about how the dam was build, and see its many and huge parts in action. Read more and book tickets
Las Vegas Strip
Packed with the best hotels and largest casinos, the glittering 4.2-mile (6.8-kilometer) Las Vegas Strip is America's largest playground for adults. Enjoy the stunning architecture, trendy nightclubs, dazzling shows and performances, as well as five-star dinners. Iconic hotels include Treasure Island, the Venetian, MGM Grand, Bellagio and Caesars Palace. Try an "Open bus night tour"
Virginia City
This historic Boomtown town emerged after the discovery of Comstock Lode in the mid-1800s and became a bustling silver mining town. See the city as it was then, and visit historical museums, salons, shops etc. You can also take a trip to the silver mine.
Area 51
The area commonly known as Area 51 – officially Homey Airport (KXTA) or Groom Lake – is a highly rated United States Air Force facility located in the desert of southern Nevada. The area is know for lots of conspiracy theories about UFOs and aliens and has become a tourist attraction, despite being an closed off area. You can take a full day trip from Las Vegas – buy tickets here
Enjoy Nevada!