Get travel tips and book flight, hotel, car rental, attractions, tours, etc.
WHAT TO SEE AND WHAT TO DO IN CARSON CITY
Discover Nevada State Capitol Building, Kit Carson Trail, State Prison Museum, Bowers Mansion, Regional Park, Ghost Trail, Hot Springs and much more in Carson City. Our Carson City Travel Guide offers insider travel tips and easy booking for flight, hotel, car rental, attractions, tours, sports tickets, concerts, etc. Secure the best deals with our trusted partners, and explore with confidence.
SEARCH FOR FLIGHTS TO CARSON CITY
CARSON CITY CALENDAR - WHATS UP NEXT:
CARSON CITY TRAVEL GUIDE VIDEO INSPIRATION
CARSON CITY SPORT TICKETS
Carson City is located in the western part of the United States, specifically in the state of Nevada. It serves as the capital of the state of Nevada and is situated in the western region of the state, not far from the border with California and near the eastern edge of the Sierra Nevada mountain range.
Carson City has a population of apx 56.000 people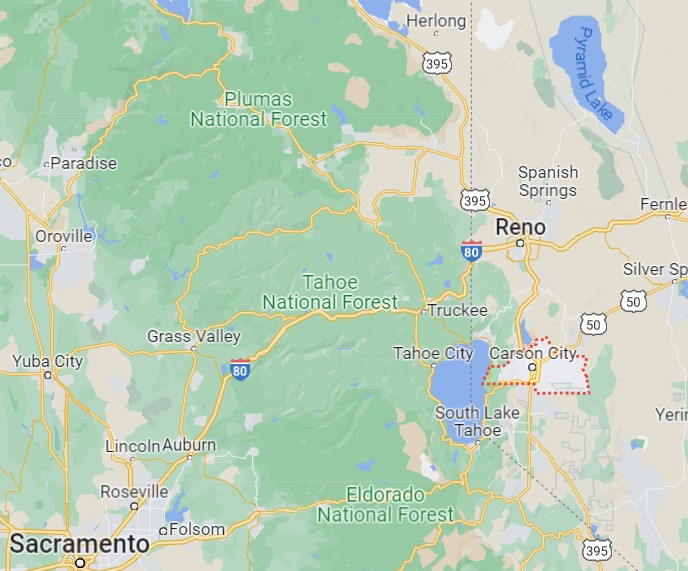 Introduction
Carson City, is a hidden gem waiting to be explored by travelers seeking a unique blend of natural beauty, history, and culture. With its stunning Sierra Nevada backdrop and a rich heritage dating back to the days of the Wild West, Carson City offers a captivating journey into the heart of the American West.
Natural Beauty: Carson City's location near Lake Tahoe and its proximity to the Sierra Nevada mountains make it a haven for outdoor enthusiasts. Visitors can enjoy hiking, biking, and water activities in the summer, and skiing and snowboarding in the winter. The city's scenic beauty is a year-round attraction.
Historical Charm: Carson City boasts a rich history as the capital of Nevada and a former frontier town. Explore historic districts, museums, and landmarks such as the Nevada State Capitol Building, the Nevada State Railroad Museum, and the Kit Carson Trail, which winds through the city's historic neighborhoods.
Cultural Experiences: The city hosts various cultural events and festivals throughout the year, celebrating Nevada's heritage. Visitors can immerse themselves in art galleries, theaters, and local cuisine, all of which reflect the region's unique culture and traditions.
Outdoor Recreation: Beyond Lake Tahoe and the Sierra Nevada, Carson City is surrounded by wilderness areas and parks, making it an ideal base for outdoor adventures. Whether you're into hiking, mountain biking, fishing, or simply enjoying the great outdoors, you'll find plenty of opportunities to connect with nature.
Unique Nevada Appeal: As the capital of the Silver State, Carson City has a distinct Nevada charm. It's known for its historic saloons, casinos, and the chance to explore the rich mining history that shaped the region.
Carson City, offers a one of a kind experience for travelers seeking a blend of natural beauty, history, and culture. Its unique combination of outdoor recreation, historical charm, and cultural attractions make it a destination worth exploring for those looking to discover the true essence of Nevada's diverse landscapes and heritage.