Get travel tips and book flight, hotel, car rental, attractions, tours, etc.
What to see and what to do in San Diego ?
Seaworld, Old Town, Balbora Park, Seaport Village, La Jolla Cove, Seaworld, San Diego Zoo are only a few of things to see and try in San Diego. Use our San Diego Travel Guide for information, idea and travel tips. Read our travel descriptions and see images and videos for inspiration. We have selected the best tours and activities for you, and we give our recommendations. We have researched, testet and and verified our partners, so you can enjoy easy and safe booking – on the GO!
RECOMMENDED TOURS AND ACTIVITIES
SAN DIEGO CALENDAR - WHATS UP NEXT:
SAN DIEGO VIDEO INSPIRATION
Our Special tip: San Diego Scenic Tour
Experience the scenic highlights of San Diego and its surrounding areas. See sea lakes and pelicans on La Jolla beach and experience stunning views from the top of Soledad. Enjoy the old world elegance of the mansions and Hotel Del on Coronado Island, and the oasis Balboa Park. Walk through downtown and Old Town San Diego, learning about the city's history along the way. Buy tickets here
OTHER EXPERIENCES IN SAN DIEGO
Facts about San Diego
Get these answers below: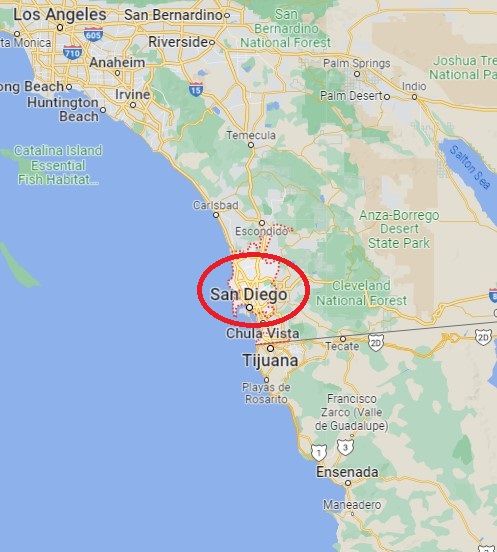 Location and Population
San Diego is a city located in the state of California, United States. It is situated in the southwestern corner of California, near the border with Mexico. San Diego is known for its beautiful coastal location on the Pacific Ocean. The estimated population of San Diego was around 1.4 million people, making it the second most populous city in California after Los Angeles
Major Airports
San Diego has one major international airport:
San Diego International Airport (SAN) – Located in the northwest part of downtown San Diego, it is the primary airport serving the region. It offers domestic and international flights and is served by numerous airlines.
In addition to San Diego International Airport, there are a few other airports in the region that serve as alternatives for travellers:
Tijuana International Airport (TIJ) – Situated just across the border in Tijuana, Mexico, this airport is a viable option for travelers looking for lower-cost flights or additional airline options.
McClellan-Palomar Airport (CLD) – Located in Carlsbad, approximately 35 miles north of downtown San Diego, this airport serves as an alternative for travelers in North County San Diego. It offers primarily domestic flights.
John Wayne Airport (SNA) – Situated in Santa Ana, approximately 85 miles north of downtown San Diego, this airport is another option for travelers. It primarily serves the Orange County area but can be considered for certain itineraries.
Weather
San Diego has a Mediterranean climate, characterized by mild, pleasant weather throughout the year. The city is known for its warm, dry summers and mild winters. Here's a breakdown of the typical weather patterns:
Summer (June to August): Summers in San Diego are warm and mostly dry. Average high temperatures range from the mid-70s to mid-80s Fahrenheit (24-29°C), with occasional heatwaves that can push temperatures higher. The nights are usually cool and comfortable, with lows in the 60s Fahrenheit (15-18°C). June may experience some overcast mornings due to the marine layer, known as "June Gloom."
Fall (September to November): Fall in San Diego brings slightly cooler temperatures than summer, but it remains quite pleasant. Highs range from the mid-70s to low 80s Fahrenheit (24-27°C) in September and gradually cool down into the 60s and 70s Fahrenheit (15-24°C) by November. The evenings become cooler as well, with temperatures ranging from the 50s to 60s Fahrenheit (10-18°C).
Winter (December to February): San Diego's winters are mild and relatively dry. High temperatures average in the mid-60s to low 70s Fahrenheit (18-23°C), with occasional cooler periods. Nighttime temperatures range from the 40s to 50s Fahrenheit (4-15°C). While rain is less frequent, there may be occasional winter showers.
Spring (March to May): Spring in San Diego is pleasant, with gradually warming temperatures. Highs start in the low 60s to mid-70s Fahrenheit (15-24°C) in March and reach the 70s to low 80s Fahrenheit (21-27°C) by May. Nights are cooler, with temperatures ranging from the 50s to 60s Fahrenheit (10-18°C). Springtime can also bring occasional rain showers.
Introduction
San Diego is known for its idyllic weather, pristine beaches, and diverse attractions, San Diego offers a memorable experience for tourists from around the world. As a tourist destination, San Diego boasts a plethora of unique features that set it apart. Here's a brief overview of what makes San Diego special:
Beautiful Beaches: With over 70 miles of coastline, San Diego is renowned for its breathtaking beaches. From the popular shores of Mission Beach and Pacific Beach to the serene La Jolla Cove and Coronado Beach, visitors can bask in the sun, surf the waves, or simply enjoy a leisurely stroll along the sandy shores.
Rich Cultural Heritage: San Diego embraces a rich cultural heritage influenced by its Mexican and Spanish roots. The historic district of Old Town showcases the city's past with preserved adobe buildings, museums, and authentic Mexican cuisine. The iconic Mission San Diego de Alcalá, the first of California's 21 missions, offers a glimpse into the region's history.
World-Class Attractions: San Diego is home to a variety of world-class attractions. Balboa Park, often referred to as the "Smithsonian of the West," is a sprawling urban park that houses numerous museums, gardens, and the famous San Diego Zoo. The USS Midway Museum, located aboard the aircraft carrier USS Midway, offers a fascinating glimpse into naval aviation history.
Thriving Craft Beer Scene: San Diego has earned a reputation as a craft beer mecca, with an impressive array of breweries and tasting rooms. The city is known for its diverse beer styles and innovative brews, attracting beer enthusiasts from near and far.
Outdoor Adventures: San Diego's outdoor offerings are abundant. From hiking trails in Torrey Pines State Natural Reserve to kayaking in La Jolla's sea caves, visitors can explore the region's natural beauty. The nearby Cabrillo National Monument provides breathtaking views of the coastline and an opportunity to learn about the area's maritime history.
With its picturesque landscapes, diverse attractions, and year-round pleasant weather, San Diego offers a unique blend of relaxation, adventure, and cultural experiences. Whether you're seeking a beachside retreat, a family-friendly getaway, or an exploration of history and nature, San Diego is sure to captivate you with its charm and warm hospitality.
Getting around
By Car:
Renting a car gives you the flexibility to explore the city at your own pace and venture to destinations outside the immediate city center. All major rental companies operate in San Diego, and you can easily find rental options at the San Diego International Airport or throughout the city.
Ride-Sharing Services: Services like Uber and Lyft are widely available in San Diego and offer a convenient and reliable way to get around the city. Simply download the app, request a ride, and a driver will pick you up.
Public Transportation:
Metropolitan Transit System (MTS): The MTS operates buses and trolleys throughout San Diego County, providing an extensive public transportation network. The trolley system is particularly useful for exploring popular destinations like downtown, Old Town, and the Gaslamp Quarter. Bus routes cover a wide area, including neighborhoods, attractions, and the coastal areas.
Coaster and Amtrak: The Coaster is a commuter train that runs along the coast between Oceanside and downtown San Diego. Amtrak also serves San Diego, offering connections to other major cities in California and beyond.
Biking and Scooters:
Bike Rentals: San Diego features numerous bike rental options, including traditional bikes, electric bikes, and even guided bike tours. You can explore the city's beachfront paths, ride along the bay, or explore neighborhoods on two wheels.
Electric Scooters: Electric scooters are available for rent throughout the city, providing a fun and efficient way to navigate shorter distances. Companies like Bird, Lime, and Spin offer dockless scooter rentals that can be unlocked and used through a smartphone app.
Walking:
San Diego is a pedestrian-friendly city, especially in areas like downtown, Gaslamp Quarter, and waterfront neighborhoods. Exploring on foot allows you to immerse yourself in the city's atmosphere and discover hidden gems.
Top attractions
Balboa Park: This expansive urban park is a cultural treasure, housing over 15 museums, beautiful gardens, walking trails, and the world-renowned San Diego Zoo. It's a perfect place to immerse yourself in art, science, history, and nature.
San Diego Zoo: Located within Balboa Park, the San Diego Zoo is home to a vast array of animals from around the world. With habitats designed to mimic their natural environments, the zoo offers an incredible opportunity to observe wildlife up close.
USS Midway Museum: Step aboard the USS Midway, a retired aircraft carrier turned museum, and explore the extensive exhibits that showcase the history of naval aviation. Visitors can explore the ship, see aircraft up close, and learn about the brave men and women who served aboard.
La Jolla Cove: Known for its picturesque beauty, La Jolla Cove is a small, sheltered beach area surrounded by cliffs. It's an ideal spot for snorkeling, swimming, and exploring tide pools. You might even catch a glimpse of seals or sea lions.
Old Town San Diego State Historic Park: Step back in time and experience the rich heritage of San Diego at this historic park. It features preserved adobe buildings, museums, shops, and restaurants that offer a glimpse into the city's Mexican and early American history.
Cabrillo National Monument: Located at the tip of the Point Loma Peninsula, this monument commemorates the landing of Juan Rodriguez Cabrillo, the first European to set foot on the West Coast of the United States. Visitors can enjoy stunning views of the Pacific Ocean, explore tide pools, and learn about the area's natural and cultural history.
Gaslamp Quarter: This vibrant historic district in downtown San Diego offers a lively atmosphere with its Victorian-era buildings, eclectic shops, restaurants, bars, and nightlife. It's a great place to explore, dine, and experience the city's vibrant entertainment scene.
Seaport Village: Situated along the San Diego Bay, Seaport Village is a charming waterfront area filled with shops, eateries, and entertainment options. Enjoy a leisurely stroll, take in the coastal views, and indulge in shopping or dining experiences.
Coronado Island: Just across the bay from downtown San Diego, Coronado Island is known for its pristine beaches, luxurious resorts, and the iconic Hotel del Coronado. Rent a bike, explore the charming town, and relax on the picturesque beaches.
Maritime Museum of San Diego: This maritime-themed museum features an impressive collection of historic ships, including the Star of India, the world's oldest active sailing ship. Visitors can explore the vessels, learn about maritime history, and even take a sailing tour on select ships.
Free things to do
Balboa Park: While some museums within Balboa Park may have admission fees, the park itself is free to enter. Enjoy the beautiful gardens, walk along the scenic trails, and explore the Spanish Colonial Revival architecture.
La Jolla Cove: This stunning beach area is free to visit and offers breathtaking views of the Pacific Ocean. Watch the seals and sea lions, explore tide pools, or simply relax on the sandy shores.
Sunset Cliffs Natural Park: Located along the coastline in Point Loma, this park offers sweeping views of the ocean and beautiful cliffs. It's a great spot to catch a mesmerizing sunset or take a leisurely walk along the trails. Discover the history and heritage of San Diego in this free park. Stroll through the preserved adobe buildings, enjoy live performances, and soak in the atmosphere of the Old West.
Mission Bay Park: This expansive park offers scenic views, picnic areas, and walking paths. Enjoy water activities like kayaking or paddleboarding, or simply relax by the bay and enjoy the beautiful surroundings.
Mount Soledad Veterans Memorial: Visit this mountaintop memorial in La Jolla, which offers panoramic views of San Diego. The memorial honors veterans and provides a peaceful setting for reflection.
Point Loma Tide Pools: Explore the tide pools at Cabrillo National Monument in Point Loma during low tide. Witness fascinating marine life, including colorful sea anemones and small crabs.
Seaport Village: Although shopping and dining options are available, you can visit Seaport Village for free and enjoy the waterfront ambiance. Take a leisurely stroll along the boardwalk, admire the views, and browse through the unique shops.
The Timken Museum of Art: Located in Balboa Park, the Timken Museum houses an impressive collection of European old master paintings. Admission to the museum is free, offering a chance to appreciate fine art without any cost.
Coronado Beach: Accessible by the iconic Coronado Bridge, Coronado Beach offers miles of pristine shoreline, perfect for sunbathing, picnicking, and leisurely walks. Enjoy the views of the Hotel del Coronado and the glittering downtown skyline.
Outdoor recreation
San Diego is a paradise for outdoor enthusiasts, offering a wide range of recreational activities thanks to its pleasant climate and diverse natural landscapes.
Beaches: With its extensive coastline, San Diego is renowned for its beautiful beaches. From the lively shores of Mission Beach and Pacific Beach to the serene La Jolla Cove and Coronado Beach, visitors can swim, sunbathe, surf, paddleboard, kayak, or simply relax by the ocean.
Hiking and Nature Trails: San Diego boasts numerous hiking and nature trails that cater to various fitness levels and preferences. Torrey Pines State Natural Reserve offers stunning coastal hikes, while Cowles Mountain in Mission Trails Regional Park provides panoramic views of the city. Other notable hiking destinations include Los Peñasquitos Canyon Preserve, Cabrillo National Monument, and Anza-Borrego Desert State Park.
Water Sports: The warm waters of San Diego are perfect for water sports activities. Surfing is popular along the coast, with numerous surf breaks catering to different skill levels. Snorkeling and diving enthusiasts can explore the vibrant underwater world at La Jolla Cove and the Point Loma Tide Pools. Kayaking, stand-up paddleboarding, and jet skiing are also popular options.
Cycling: San Diego offers scenic routes for cyclists, whether it's a leisurely ride along the coastline or more challenging mountain biking trails. The Mission Bay Bike Path, Silver Strand Bikeway, and Rose Canyon Bike Path are among the popular cycling routes in the city.
Golfing: San Diego is a golfer's paradise with its year-round mild weather. The city boasts over 90 golf courses, including prestigious options like Torrey Pines Golf Course, which has hosted professional tournaments.
Wildlife Viewing: San Diego is home to diverse wildlife, both on land and in the ocean. Visitors can embark on whale-watching tours to catch a glimpse of migrating gray whales or go birdwatching at the Tijuana Estuary or the San Diego Bay National Wildlife Refuge.
Rock Climbing: For adventure seekers, San Diego offers opportunities for rock climbing. Places like Mission Gorge, Mount Woodson, and El Cajon Mountain provide challenging climbing routes amidst beautiful natural surroundings.
Camping and RVing: San Diego features several campgrounds and RV parks that allow visitors to immerse themselves in nature. Popular camping destinations include San Elijo State Beach, Silver Strand State Beach, and Cuyamaca Rancho State Park.
Sailing and Boating: San Diego's coastal location makes it an ideal destination for sailing and boating enthusiasts. Visitors can charter boats, take sailing lessons, or simply enjoy a leisurely cruise along the bay or the open ocean.
Outdoor Fitness: San Diego encourages an active lifestyle, with outdoor fitness options like yoga on the beach, boot camps in parks, and fitness classes at various scenic locations throughout the city.
Sport venues and local sport teams
Petco Park: Located in downtown San Diego, Petco Park is the iconic home stadium of the San Diego Padres, the city's Major League Baseball (MLB) team. The ballpark features stunning views, a grassy outfield seating area, and a lively atmosphere during baseball season.
SDCCU Stadium: Formerly known as Qualcomm Stadium, SDCCU Stadium is a multi-purpose stadium in Mission Valley. It has been the home of various professional and collegiate football teams, including the former San Diego Chargers of the National Football League (NFL). The stadium also hosts college football games, concerts, and other major events.
Pechanga Arena: Situated in the Midway District, Pechanga Arena (formerly known as Valley View Casino Center and San Diego Sports Arena) is an indoor arena that hosts a variety of sports and entertainment events. It has been home to teams like the San Diego Sockers (indoor soccer), San Diego Gulls (American Hockey League), and San Diego Sails (basketball).
Torero Stadium: Located on the University of San Diego campus, Torero Stadium is primarily used for college football and soccer games. It is the home field for the University of San Diego Toreros football team and the San Diego Legion, a professional rugby team that competes in Major League Rugby (MLR).
Tony Gwynn Stadium: Named after the legendary San Diego Padres player Tony Gwynn, this baseball stadium is situated on the San Diego State University campus. It serves as the home field for the San Diego State Aztecs baseball team.
Viejas Arena: Situated on the San Diego State University campus, Viejas Arena is an indoor venue that hosts basketball games, concerts, and other events. It is home to the San Diego State Aztecs men's and women's basketball teams.
Jenny Craig Pavilion: Also located on the University of San Diego campus, Jenny Craig Pavilion is an indoor arena used for basketball and volleyball games. It is the home venue for the University of San Diego Toreros basketball and volleyball teams.
Major events and festivals
San Diego hosts a wide array of major events and festivals throughout the year, offering something for everyone. Here are some of the top events and festivals:
Comic-Con International: Held annually in July, Comic-Con is one of the largest pop culture conventions in the world. It attracts thousands of fans, cosplayers, and industry professionals who gather to celebrate and showcase comic books, movies, TV shows, and gaming.
San Diego County Fair: Taking place from late June to early July, the San Diego County Fair is one of the largest county fairs in the United States. It features live entertainment, carnival rides, agricultural exhibits, food vendors, craft exhibitions, and a variety of family-friendly activities.
San Diego Pride Parade and Festival: Held in July, the San Diego Pride Parade and Festival is a celebration of the LGBTQ+ community. The event includes a colorful parade through the Hillcrest neighborhood, followed by a vibrant festival featuring live music, dance performances, food vendors, and community exhibits.
Kaaboo Del Mar: Kaaboo is a three-day music and arts festival held in Del Mar in September. It features performances by renowned musicians, art installations, culinary experiences, comedy shows, and interactive exhibits, providing a multi-faceted entertainment experience.
San Diego Bay Wine + Food Festival: This week-long festival in November celebrates the region's culinary scene. It includes wine tastings, food demonstrations, gourmet dinners, and a grand tasting event showcasing the offerings of local chefs, wineries, and breweries.
San Diego International Film Festival: The San Diego International Film Festival, held in October, showcases independent films from around the world. It features premieres, screenings, panels, and networking opportunities for filmmakers and movie enthusiasts.
December Nights: Held in Balboa Park, December Nights is a two-day holiday festival in December. It offers live performances, music, dance, food vendors, holiday light displays, and opportunities to explore the museums and gardens within the park.
Fleet Week San Diego: Fleet Week, held in September, honors and celebrates the military heritage of San Diego. It includes ship tours, military exhibits, air shows featuring the Blue Angels, and various community events to show appreciation for the men and women in uniform.
Del Mar Racing Season: The Del Mar Thoroughbred Club hosts a summer racing season from mid-July to early September. Attendees can enjoy thrilling horse races, wagering, live music, and other entertainment at the Del Mar Racetrack.
Street Scene Music Festival: Although it has not been held in recent years, the Street Scene Music Festival was a popular event in San Diego, featuring a diverse lineup of musical performances across multiple stages. It showcased a range of genres, from rock and hip-hop to indie and electronic music.
Local cuisine
San Diego's local cuisine reflects the city's diverse culinary influences, coastal location, and vibrant food scene. Here are some highlights of the local cuisine in San Diego:
Fish Tacos: With its proximity to the ocean, San Diego is known for its delicious fish tacos. Typically made with fresh grilled or battered fish, topped with cabbage, salsa, and a creamy sauce, fish tacos are a staple of the local cuisine.
California Burritos: A San Diego specialty, the California burrito combines traditional Mexican flavors with California influences. It typically contains carne asada, French fries, cheese, guacamole, and salsa, all wrapped in a flour tortilla.
Mexican Cuisine: San Diego's close proximity to Mexico has heavily influenced its culinary scene. The city boasts numerous Mexican eateries, ranging from street taco stands to upscale Mexican restaurants, where you can savor dishes like carne asada, enchiladas, tamales, and chiles rellenos.
Craft Beer: San Diego has gained a reputation as a craft beer mecca, with a flourishing beer scene. The city is home to numerous craft breweries, offering a wide variety of styles and flavors. Visitors can explore tasting rooms, take brewery tours, and sample locally brewed beers.
Seafood: Given its coastal location, San Diego offers an abundance of fresh seafood options. From grilled fish and shrimp to ceviche and seafood platters, you'll find an array of delicious seafood dishes throughout the city.
California Cuisine: San Diego embraces the farm-to-table concept, and many restaurants focus on using fresh, locally sourced ingredients. California cuisine emphasizes healthy, seasonal dishes, often incorporating fresh vegetables, salads, artisanal cheeses, and sustainably sourced meats.
Asian Fusion: San Diego's multicultural makeup is reflected in its diverse Asian fusion cuisine. From sushi and ramen to Thai, Vietnamese, and Korean-inspired dishes, you'll find a wide range of Asian flavors and culinary styles in the city.
Coastal Cuisine: Being a coastal city, San Diego offers a vibrant coastal cuisine scene. From waterfront seafood restaurants to beachside cafes, you can enjoy dishes like grilled fish, clam chowder, lobster rolls, and seafood paella while soaking in the coastal atmosphere.
Known and recommended restaurants
Juniper & Ivy: Located in the Little Italy neighborhood, Juniper & Ivy is a popular and critically acclaimed restaurant known for its innovative American cuisine. It offers a menu featuring seasonal and locally sourced ingredients, presented in creative and flavorful dishes.
The Crack Shack: This casual eatery, with multiple locations in San Diego, specializes in gourmet fried chicken and egg-based dishes. The Crack Shack offers a fun and relaxed atmosphere, along with delicious sandwiches, salads, and sides.
Cucina Urbana: Situated in Bankers Hill, Cucina Urbana combines rustic Italian cuisine with a modern twist. The restaurant offers a farm-to-table approach, featuring fresh and locally sourced ingredients. The vibrant ambiance and extensive wine list add to the dining experience.
George's at the Cove: Located in La Jolla, George's at the Cove offers breathtaking ocean views and a diverse menu. With three levels of dining, including the renowned Ocean Terrace, this restaurant serves contemporary California cuisine, focusing on seafood and local ingredients.
The Marine Room: Situated in La Jolla on the water's edge, The Marine Room is known for its fine dining experience and spectacular views of the Pacific Ocean. The restaurant offers innovative and elegant cuisine, with a focus on seafood, and is renowned for its high-tide dining experience.
Hodad's: A local favorite, Hodad's is a burger joint in Ocean Beach. It has gained fame for its juicy burgers, made with high-quality ingredients and topped with a variety of creative toppings. The lively atmosphere and surf-themed decor add to the charm of this iconic spot.
Herb & Wood: Located in Little Italy, Herb & Wood is a trendy restaurant known for its rustic yet refined cuisine. It features an open kitchen, a stylish bar, and a menu that showcases seasonal ingredients in dishes inspired by various global flavors.
Ironside Fish & Oyster: Situated in Little Italy, Ironside Fish & Oyster is a popular seafood restaurant offering a vibrant and stylish atmosphere. It features an oyster bar, fresh seafood options, and a menu that highlights both classic and inventive seafood dishes.
Phil's BBQ: Phil's BBQ has become a San Diego institution, serving up mouthwatering barbecue dishes. With multiple locations, including the original in Point Loma, this casual eatery offers delicious ribs, chicken, and other smoked meats slathered in their signature barbecue sauce.
Puesto: Known for its gourmet tacos, Puesto is a modern Mexican eatery with several locations in San Diego. The restaurant offers a range of creative and flavorful taco options, along with a variety of salsas and handmade tortillas.
Nightlife
San Diego offers a vibrant nightlife scene with a variety of entertainment options, from lively bars and clubs to rooftop lounges and live music venues. Here's an overview of the nightlife in San Diego and some recommended places to visit:
Gaslamp Quarter: Located in downtown San Diego, the historic Gaslamp Quarter is a hub for nightlife. It features numerous bars, clubs, restaurants, and live music venues, making it a popular destination for locals and visitors alike. You can explore the lively streets and find venues catering to different tastes in music and ambiance.
North Park: Known for its hipster vibe, North Park is another neighborhood in San Diego with a thriving nightlife. It offers a mix of trendy bars, craft breweries, cocktail lounges, and live music venues. You can enjoy a variety of genres, from indie rock to jazz, while experiencing the local atmosphere.
Rooftop Bars: San Diego's pleasant year-round weather makes rooftop bars a popular choice for enjoying the city's nightlife. Places like Altitude Sky Lounge, The Nolen, and Level Four Pool Deck + Lounge offer stunning views of the city skyline, craft cocktails, and a chic ambiance.
Live Music Venues: San Diego has several venues where you can catch live performances by local and touring artists. The Casbah in Little Italy, Belly Up Tavern in Solana Beach, and House of Blues in the Gaslamp Quarter are just a few examples of venues that host a variety of musical acts throughout the year.
Craft Breweries: San Diego is renowned for its craft beer scene, and many breweries offer lively taprooms where you can enjoy a pint or flight of locally brewed beers. Places like Stone Brewing World Bistro & Gardens, Ballast Point Brewing Company, and Modern Times Beer provide a great atmosphere to socialize and sample a wide range of beer styles.
Beachfront Bars: San Diego's coastal location offers the opportunity to enjoy nightlife near the beach. Pacific Beach and Mission Beach have numerous bars and clubs along the waterfront, allowing you to dance, mingle, and enjoy the beach atmosphere well into the night.
Casino Entertainment: If you're looking for a different kind of nightlife experience, San Diego's casinos offer a lively atmosphere with entertainment options such as gaming, concerts, comedy shows, and dining. Popular casino destinations include Barona Resort & Casino, Viejas Casino & Resort, and Sycuan Casino.
Comedy Clubs: San Diego has several comedy clubs where you can enjoy stand-up comedy shows and improv performances. The Comedy Store in La Jolla, American Comedy Co. in the Gaslamp Quarter, and The Comedy Palace in Kearny Mesa are notable venues that host a mix of local and national comedians.
Places to stay
San Diego offers a range of diverse neighborhoods, each with its own distinct character and attractions. When choosing where to stay as a tourist in San Diego, consider the following neighborhoods:
Gaslamp Quarter: Located in downtown San Diego, the Gaslamp Quarter is a vibrant and historic district known for its nightlife, dining, and entertainment. It offers a lively atmosphere, with numerous bars, clubs, restaurants, and shops. The neighborhood is also close to popular attractions like the San Diego Convention Center, Petco Park (home of the San Diego Padres), and the USS Midway Museum.
Little Italy: Situated just north of downtown, Little Italy is a charming neighborhood known for its culinary scene, art galleries, and weekly farmers market. It features a variety of Italian restaurants, trendy boutiques, and coffee shops. Little Italy is within walking distance of the waterfront and offers easy access to downtown attractions.
Mission Bay: Located on the coast, Mission Bay is a recreational haven with beautiful beaches, parks, and water activities. It is home to Mission Bay Park, the largest man-made aquatic park in the United States. Mission Bay offers a more relaxed and beach-oriented atmosphere, making it a great choice for those seeking outdoor recreation and a tranquil getaway.
La Jolla: Situated north of downtown, La Jolla is an upscale coastal neighborhood known for its stunning beaches, scenic cliffs, and upscale shopping. It offers a mix of luxury resorts, boutique hotels, and vacation rentals. La Jolla is also home to the renowned Birch Aquarium and boasts excellent dining options and art galleries.
Coronado: Located across the bay from downtown San Diego, Coronado is a picturesque island known for its pristine beaches, historic Hotel del Coronado, and charming downtown area. It offers a laid-back atmosphere and a range of accommodation options, including beachfront resorts and boutique hotels. Coronado is accessible via the iconic Coronado Bridge or a short ferry ride.
Pacific Beach: Situated along the coast, Pacific Beach is a lively neighborhood known for its beach culture, surf shops, and vibrant nightlife. It attracts a younger crowd and offers a wide range of accommodation options, from budget-friendly hotels to vacation rentals. Pacific Beach is a great choice for those seeking a lively beach atmosphere with plenty of dining and entertainment options.
Old Town: Considered the birthplace of California, Old Town is a historic neighborhood that showcases the city's Spanish and Mexican heritage. It features preserved adobe buildings, museums, shops, and Mexican restaurants. Staying in Old Town provides a glimpse into San Diego's rich history and is centrally located, with easy access to attractions like Balboa Park and the Zoo.
Nearby experiences
San Diego is surrounded by a variety of nearby experiences that offer diverse attractions and activities. Here are a few noteworthy options for exploring the area near San Diego:
Tijuana, Mexico: Located just across the border, Tijuana is a vibrant Mexican city with its own unique culture, cuisine, and attractions. Visitors can explore the bustling markets, sample authentic street food, visit art galleries, and experience the lively nightlife. Make sure to have your passport and appropriate documentation for crossing the border.
Anza-Borrego Desert State Park: Located northeast of San Diego, Anza-Borrego Desert State Park is California's largest state park and offers stunning desert landscapes. Visitors can hike scenic trails, explore slot canyons, discover ancient fossils, and admire the colorful wildflowers during the spring. The park is also known for stargazing opportunities due to its dark skies.
Julian: Situated in the mountains northeast of San Diego, Julian is a charming historic town known for its apple orchards and homemade apple pies. Visitors can enjoy scenic drives, pick apples during the harvest season, indulge in delicious baked goods, and explore the town's unique shops and museums.
Temecula Wine Country: Located north of San Diego, Temecula Valley is a picturesque wine region known for its vineyards and wineries. Wine enthusiasts can embark on wine tours and tastings, savoring a variety of wines while enjoying the beautiful rolling hills and vineyard landscapes. Temecula also offers dining options, shopping, and hot air balloon rides.
Cabrillo National Monument: Situated at the southern tip of the Point Loma Peninsula, Cabrillo National Monument offers breathtaking views of the Pacific Ocean, San Diego Bay, and the city skyline. Visitors can explore the historic Old Point Loma Lighthouse, hike scenic trails, and learn about the area's rich maritime history.
Legoland California: Located in Carlsbad, just north of San Diego, Legoland California is a popular family-friendly theme park. It features a variety of Lego-themed attractions, rides, shows, and interactive experiences for kids of all ages. The park also includes a water park, an aquarium, and a hotel.
Enjoy San Diego!