Get travel tips and book flight, hotel, car rental, attractions, tours, etc.
WHAT TO SEE AND WHAT TO DO IN WASHINGTON
Seattle, Space Needle, Pike Place Market, Mount Rainier, Olympic National Park, San Juan Islands, Snoqualmie Falls, Chihuly Garden, Mount St. Helens are only a few of places and things to experience in the great state of Washington. Use our Washington Travel Guide for information, idea and travel tips. Read our travel descriptions and see images and videos for inspiration. We have selected the best tours and activities for you, and we give our recommendations. We have researched, testet and and verified our partners, so you can enjoy easy and safe booking – on the GO!
WASHINGTON TRAVEL GUIDE VIDEO INSPIRATION
Facts about Washington
Introduction
Location and population
Major airports
The weather
Top 10 biggest cities
Top National Parks
Top 10 attractions
Notable Road Trips
Local cuisine
Top 5 cities to visit as a tourist
Major events and festivals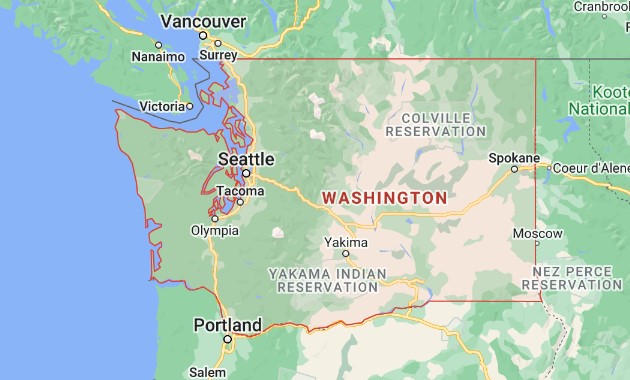 Introduction
Washington State, often referred to simply as Washington, is a captivating and diverse region nestled in the Pacific Northwest of the United States. Renowned for its breathtaking natural landscapes, vibrant cities, and rich cultural heritage, Washington State is a destination that offers something for everyone.
From the towering peaks of the Cascade Range to the lush greenery of the Olympic Peninsula's rainforests, the state's geography is nothing short of spectacular. Washington is also home to an extensive coastline along the Pacific Ocean, complete with rugged cliffs and pristine beaches. This natural beauty serves as a backdrop to a state filled with a dynamic mix of urban centers, including the bustling metropolis of Seattle and the vibrant city of Spokane.
Washington's culture reflects a fusion of traditions, from the indigenous communities who have lived here for centuries to the waves of immigrants who have shaped its history. The state is known for its thriving arts scene, innovative technology hubs, and a commitment to sustainability and environmental stewardship.
Whether you're an outdoor enthusiast seeking adventure in its national parks or a foodie exploring the local culinary delights, Washington State beckons with its unparalleled charm and endless opportunities for exploration. Join us on a journey to discover the wonders and wonders of this extraordinary corner of the United States.
Location and Population of the State:
Washington State is situated in the Pacific Northwest region of the United States. It is bordered by Canada to the north, Idaho to the east, Oregon to the south, and the Pacific Ocean to the west.
Washington's population is over 7.7 million people, making it one of the most populous states in the U.S.
Major Airports:
Washington State is served by several major airports, including:
Seattle-Tacoma International Airport (SEA) in Seattle – the largest and busiest airport in the state.

Spokane International Airport (GEG) in Spokane.

Portland International Airport (PDX) in Oregon, which is easily accessible from southern parts of Washington.
The Weather:
The weather in Washington varies widely by region. Western Washington, including cities like Seattle, experiences a mild, marine climate with moderate temperatures and plenty of rainfall. In contrast, Eastern Washington, including Spokane, has a semi-arid climate with hot summers and cold winters. The state is known for its lush, green landscapes due to the frequent rainfall on the western side and its sunny, dry conditions in the east.
Top 10 Biggest Cities with Population Numbers :
Seattle – Approximately 769,700

Spokane – Approximately 222,000

Tacoma – Approximately 219,000

Bellevue – Approximately 148,200

Kent – Approximately 131,500

Everett – Approximately 113,000

Renton – Approximately 104,900

Federal Way – Approximately 97,500

Yakima – Approximately 93,000
Top National Parks:
Washington State is home to several stunning national parks, including:
Olympic National Park

Mount Rainier National Park

North Cascades National Park
Top 10 Attractions:
Some of the top attractions in Washington include:
Space Needle in Seattle

Pike Place Market in Seattle

Mount Rainier

Olympic National Park

San Juan Islands

Snoqualmie Falls

Chihuly Garden and Glass in Seattle

Mount St. Helens

Leavenworth (a charming Bavarian-style village)

Museum of Flight in Seattle
Notable Road Trips or Scenic Drives:
Tourists can enjoy scenic drives along routes like the Cascade Loop, the Pacific Coast Highway, and the Columbia River Gorge, which offer breathtaking views of mountains, forests, and waterfalls.
Local Cuisine:
Washington's cuisine is influenced by its diverse culture and access to fresh seafood and produce. Some local specialties include Pacific salmon, Dungeness crab, fresh oysters, and a thriving craft beer scene. Seattle is famous for its coffee culture and is home to Starbucks.
Top 5 Cities to Stay as a Tourist:
Seattle – For its urban attractions and cultural diversity.

Spokane – Ideal for outdoor enthusiasts and history buffs.

Vancouver – Offers a mix of urban amenities and natural beauty.

Tacoma – Known for its museums and waterfront.

Leavenworth – A unique Bavarian-themed village in the Cascade Mountains.
Major Events and Festivals:
Washington hosts numerous events and festivals throughout the year, including the Seattle International Film Festival, Bumbershoot Music & Arts Festival, Washington State Fair in Puyallup, and Seafair in Seattle, featuring the famous hydroplane races. Additionally, there are cultural events celebrating Native American heritage and diverse communities throughout the state
Enjoy Washington!