Get travel tips and book flight, hotel, car rental, attractions, tours, etc.
Welcome to Paradise: Discover the Enchanting Beauty of Hawaii!
Honolulu, Maui, Kauai, Oahu, Pearl Harbor, Waikiki Beach, Diamond Head Maps, Waimea Canyon and the Napali Coast are only a few of many amazing places in Hawaii. Use our Hawaii Travel Guide for information, idea and travel tips. Read our travel descriptions and see images and videos for inspiration. We have selected the best tours and activities for you, and we give our recommendations. We have researched, testet and and verified our partners, so you can enjoy easy and safe booking – on the GO!
HAWAII TRAVEL GUIDE VIDEO INSPIRATION
Capital: Honolulu – 377,000 inhabitants
What is the Population of Hawaii? 1.45 million
How big is Hawaii's area: 28,311 km2
Hawaii's highest point: 4,205 meters
2 national parks, Volcanoes and Haleakala
Where is Hawaii located? In the Pacific Ocean, 3,700 km southwest of the west coast of the United States
See map: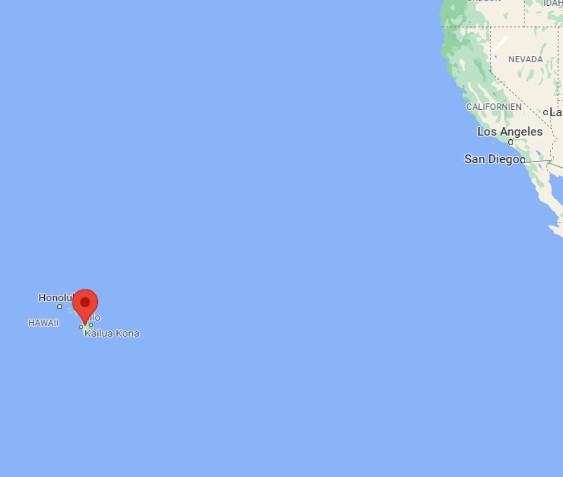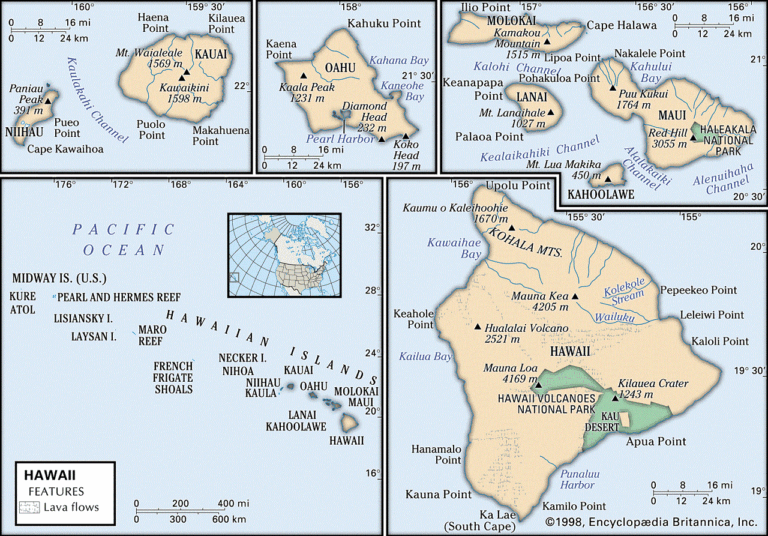 Introduction to Hawaii
Are you ready to embark on a journey to a tropical utopia like no other? Look no further than the breathtaking archipelago of Hawaii! Nestled in the heart of the Pacific Ocean, Hawaii beckons you with its mesmerizing landscapes, vibrant culture, and unparalleled hospitality.
Picture-Perfect Beaches: Get ready to sink your toes into powdery, golden sands and dive into crystal-clear waters. Whether you're catching waves on the North Shore of Oahu, lounging on the serene shores of Lanikai Beach, or witnessing the fiery spectacle of a sunset at Waikiki Beach, Hawaii's beaches are a dream come true for sun-seekers.
Volcanic Wonders: Hawaii is a geological wonderland with active volcanoes like Kilauea and Mauna Loa. Witness the earth's raw power as you explore Hawaii Volcanoes National Park, where lava flows and bubbling craters create an otherworldly landscape that will leave you in awe.
Lush Rainforests and Waterfalls: Venture into the lush, emerald-green rainforests of Hana on Maui or the verdant valleys of Kauai's Napali Coast, where cascading waterfalls like Wailua Falls and Manoa Falls create a symphony of nature's beauty.
Adventure Awaits: From surfing legendary waves and snorkeling with vibrant marine life to hiking to hidden waterfalls and ziplining through treetops, Hawaii offers a playground of thrilling outdoor activities for adventurers of all kinds.
Aloha Spirit: Experience the warmth of the "Aloha Spirit" as you immerse yourself in Hawaiian culture. Learn the hula dance, participate in a traditional luau feast, and explore the rich history and traditions of the islands through museums and cultural centers.
Culinary Delights: Savor a fusion of flavors influenced by Polynesian, Asian, and American cuisines. Indulge in fresh seafood, traditional dishes like poke and kalua pork, and tantalizing tropical fruits like pineapple and coconut.
Luxurious Resorts and Charming Villages: Whether you're seeking the indulgence of world-class resorts in Waikiki or the laid-back charm of small towns like Lahaina and Kailua-Kona, Hawaii offers a range of accommodation options to suit every traveler's preferences.
Unforgettable Memories: Whether you're a honeymooning couple, a family in search of adventure, or a solo traveler seeking tranquility, Hawaii promises to craft unforgettable memories that will last a lifetime.
So, pack your bags and prepare to be enchanted by the allure of Hawaii's natural wonders, cultural treasures, and the welcoming spirit of its people. Hawaii is not just a destination; it's an experience that will touch your heart and soul. Book your ticket to paradise today and let Hawaii's aloha spirit sweep you away on a journey of a lifetime!
Location and Population of the State:
Hawaii is the 50th state of the United States, comprising a diverse archipelago located in the central Pacific Ocean. Its capital city is Honolulu, situated on the island of Oahu. Hawaii has an estimated population of approximately 1.4 million residents.
Major Airports:
Hawaii is well-connected through several major airports, with the most significant ones being:
Daniel K. Inouye International Airport (HNL) in Honolulu, Oahu
Kahului Airport (OGG) in Maui
Kona International Airport (KOA) on the Big Island
Lihue Airport (LIH) in Kauai
Weather:
Hawaii enjoys a tropical climate, characterized by warm temperatures year-round. The islands have two main seasons: a dry season (April to October) and a wet season (November to March). Average temperatures typically range from 75°F to 85°F (24°C to 29°C).
Top 10 Biggest Cities with Population Numbers:
Honolulu – Approximately 350,000 (Oahu)
Hilo – Approximately 45,000 (Big Island)
Kailua – Approximately 38,000 (Oahu)
Kaneohe – Approximately 34,000 (Oahu)
Waipahu – Approximately 39,000 (Oahu)
Pearl City – Approximately 47,000 (Oahu)
Waimalu – Approximately 13,000 (Oahu)
Mililani Town – Approximately 48,000 (Oahu)
Kahului – Approximately 27,000 (Maui)
Kihei – Approximately 27,000 (Maui)
Top National Parks: 
Some of the top national parks in Hawaii include:
Hawaii Volcanoes National Park (Big Island)
Haleakalā National Park (Maui)
Pu'uhonua o Honaunau National Historical Park (Big Island)
Kaloko-Honokohau National Historical Park (Big Island)
Pu'ukoholā Heiau National Historic Site (Big Island)
Top 10 Attractions:
Waikiki Beach (Oahu)
Pearl Harbor and the USS Arizona Memorial (Oahu)
Haleakalā Crater (Maui)
Hana Road and Hana Town (Maui)
Na Pali Coast (Kauai)
Waimea Canyon (Kauai)
Mauna Kea Summit (Big Island)
Iolani Palace (Oahu)
Molokini Crater (Maui)
Polynesian Cultural Center (Oahu)
Notable Road Trips or Scenic Drives:
The Road to Hana (Maui)
Going-to-the-Sun Road (Maui)
Chain of Craters Road (Big Island)
Kauai's North Shore Coastal Drive (Kauai)
Local Cuisine: 
Hawaiian cuisine is a delightful fusion of flavors, influenced by Polynesian, Asian, and American culinary traditions. Popular dishes include poke (raw fish salad), kalua pork (cooked in an imu, or underground oven), loco moco (rice, hamburger patty, egg, and gravy), and a variety of tropical fruits like pineapple and coconut.
Top 5 Cities to Stay as a Tourist:
Honolulu (Oahu) – Vibrant city life, shopping, and cultural attractions.
Lahaina (Maui) – Historic charm, art galleries, and beautiful beaches.
Kailua-Kona (Big Island) – Adventure activities and rich Hawaiian culture.
Poipu (Kauai) – Tranquil beaches and lush landscapes.
Wailea (Maui) – Luxury resorts and golf courses.
Major Events and Festivals:
Merrie Monarch Festival (Hilo, Big Island) – Celebrates hula and Hawaiian culture.
Honolulu Festival (Oahu) – Showcases Asian-Pacific arts and traditions.
King Kamehameha Day (Statewide) – Honors Hawaii's first king with parades.
Aloha Festivals (Statewide) – A month-long celebration of Hawaiian music, dance, and history.
Ironman World Championship (Kona, Big Island) – One of the world's most challenging triathlons.
Enjoy Hawaii!