Get travel tips and book flight, hotel, car rental, attractions, tours, etc.
WHAT TO SEE AND WHAT TO DO IN ALABAMA
Mobile, Huntsville, Birmingham, USS Alabama Battleship Memorial Park, Civil Rights Institute, Gulf Shores and Orange Beach, Space and Rocket Center, Noccalula Falls Park are only a few of places and things to experience in the great state of Alabama. Use our Alabama Travel Guide for information, idea and travel tips. Read our travel descriptions and see images and videos for inspiration. We have selected the best tours and activities for you, and we give our recommendations. We have researched, testet and and verified our partners, so you can enjoy easy and safe booking – on the GO!
ALABAMA TRAVEL GUIDE VIDEO INSPIRATION
Facts about Alabama
Introduction
Location and population
Major airports
The weather
Top 10 biggest cities
Top National Parks
Top 10 attractions
Notable Road Trips
Local cuisine
Top 5 cities to visit as a tourist
Major events and festivals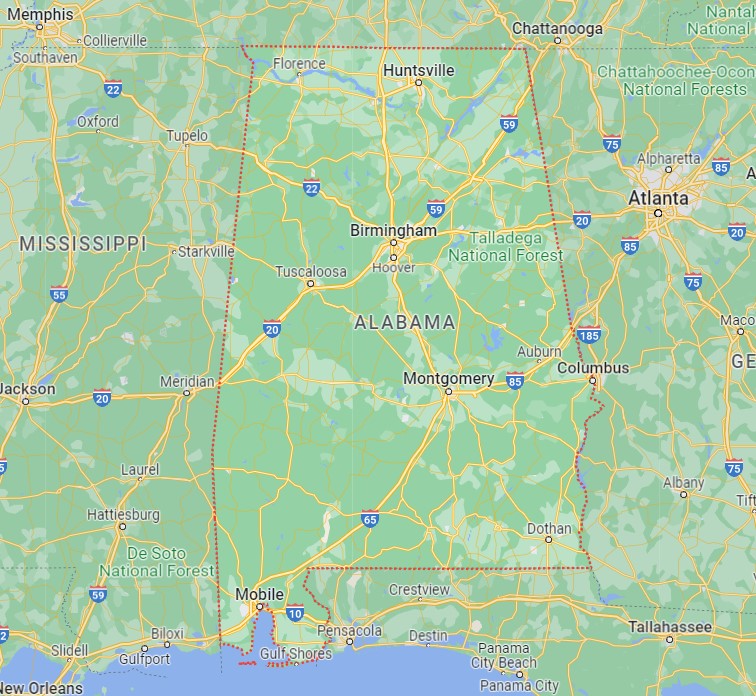 Introduction
Welcome to the heart of the Deep South, where Southern hospitality meets rich history, stunning natural beauty, and vibrant culture. Welcome to Alabama, a state that truly has something for everyone.
Experience the Charm: Alabama is a place where warm smiles and friendly greetings are the norm. Our reputation for hospitality is unmatched, and you'll feel like family from the moment you arrive. Whether you're sipping sweet tea on a front porch or enjoying a plate of mouthwatering BBQ, you'll quickly understand why Alabama is known for its welcoming spirit.
Rich History: Alabama is a treasure trove of history. From the Civil Rights Movement to the birthplace of legendary icons like Helen Keller and Hank Williams, Jr., the state is a living museum. Visit landmarks like the Birmingham Civil Rights Institute, Selma's Edmund Pettus Bridge, and Montgomery's Dexter Avenue King Memorial Baptist Church to gain a deeper understanding of our nation's history.
Natural Beauty: Nature lovers will be enchanted by Alabama's diverse landscapes. Explore the pristine beaches along the Gulf Coast, hike through the rugged beauty of the Appalachian foothills, or marvel at the wonders of the Little River Canyon, one of the deepest canyons east of the Mississippi. Alabama's outdoor offerings are a true paradise for adventurers and nature enthusiasts.
Cultural Gems: Discover the soulful sounds of the Muscle Shoals music scene, where some of the greatest hits in rock, soul, and R&B were recorded. Explore vibrant arts and cultural scenes in cities like Birmingham, Huntsville, and Mobile. Festivals celebrating music, food, and art are a testament to our lively and dynamic cultural heritage.
Delicious Cuisine: Foodies, get ready for a culinary journey like no other. From savory seafood on the Gulf Coast to mouthwatering barbecue in the heart of the state, Alabama's cuisine is a delightful fusion of Southern flavors. Don't miss a chance to savor dishes like fried catfish, collard greens, and banana pudding.
Sports Enthusiasts' Paradise: Whether you're a die-hard football fan cheering for the Crimson Tide or a golf enthusiast seeking world-class courses, Alabama offers a wide range of sports and outdoor activities to enjoy. Our love for sports is deeply ingrained in our culture, and you'll find plenty of opportunities to join in the excitement.
Alabama is a state that welcomes you with open arms, offering a unique blend of history, culture, and natural beauty. So, whether you're here for a weekend getaway or a longer adventure, Alabama promises an unforgettable experience. Come and make memories that will last a lifetime in the Heart of Dixie
Location and Population:
Alabama is located in the southeastern region of the United States.
Population of Alabama is around 5 million people.
Major Airports:
Birmingham-Shuttlesworth International Airport (BHM) in Birmingham
Huntsville International Airport (HSV) in Huntsville
Mobile Regional Airport (MOB) in Mobile
Weather:
Alabama experiences a humid subtropical climate.
Summers are hot and humid, with temperatures often exceeding 90°F (32°C).
Winters are mild, with average temperatures in the 40s and 50s°F (4-15°C).
The state can experience occasional tornadoes and is susceptible to hurricanes, especially along the Gulf Coast.
Top 10 Biggest Cities with Population Numbers (as of 2021):
Birmingham – Approximately 209,000
Montgomery – Approximately 200,000
Mobile – Approximately 188,000
Huntsville – Approximately 200,000
Tuscaloosa – Approximately 100,000
Hoover – Approximately 85,000
Dothan – Approximately 70,000
Auburn – Approximately 70,000
Decatur – Approximately 54,000
Madison – Approximately 51,000
Top Parks and Forests:
Alabama has several beautiful state parks and forests, including Oak Mountain State Park, Cheaha State Park, and Bankhead National Forest.
Top 10 Attractions:
USS Alabama Battleship Memorial Park
Civil Rights Institute in Birmingham
Gulf Shores and Orange Beach on the Gulf Coast
Birmingham Zoo
Space and Rocket Center in Huntsville
Noccalula Falls Park in Gadsden
Cheaha State Park
Tannehill Ironworks Historical State Park
Bellingrath Gardens and Home in Mobile
Little River Canyon National Preserve
Notable Road Trips or Scenic Drives:
The Natchez Trace Parkway offers a beautiful drive through the Alabama countryside.
The Coastal Connection Scenic Byway takes you along the Gulf Coast, offering stunning beach views.
Local Cuisine:
Alabama is known for its delicious Southern cuisine.
Must-try dishes include fried catfish, shrimp and grits, barbecue (especially pulled pork), collard greens, cornbread, and banana pudding.
Top 5 Cities to Stay as a Tourist:
Birmingham: Offers a mix of culture, history, and vibrant dining options.
Montgomery: Rich in civil rights history and cultural attractions.
Huntsville: Known for its space-related attractions and natural beauty.
Gulf Shores and Orange Beach: Ideal for beach lovers and water activities.
Mobile: Offers historic charm and access to the Gulf Coast.
Major Events and Festivals:
Mardi Gras (Mobile): Celebrated with parades and parties.
Talladega Superspeedway NASCAR Races (Talladega): Thrilling races.
Hangout Music Festival (Gulf Shores): A popular music festival on the beach.
National Shrimp Festival (Gulf Shores): Celebrates seafood and culture.
The Magic City Classic (Birmingham): A historic college football game and surrounding events.
Enjoy Alabama!