What To See and What To Do in Yellowstone National Park
Mammoth Hot Springs, Old Faithful Erupt, Lamar Valley, mountains, rivers, canyons, springs and geysers are only a few of the things to see and experience in Yellowstone. We have selected the best tours and activities, and you will find our recommendations in this Guide. We have researched and picked out the best, trusted and varified booking providers. Book online and easy and on the GO!
HIGHLIGHTED RECOMMENDATIONS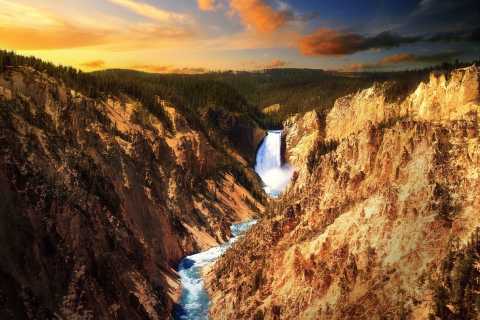 From Jackson. Enjoy a full day exploring Yellowstone National Park on a small-group guided tour. Stops include Old Faithful, the Lower Falls of Grand Canyon of Yellowstone, and several opportunities to observe the diverse wildlife of these national parks. The tour includes a picnic-style lunch. You'll enjoy personal attention from the guide as this is a small-tour group tour. Small easy walks along numerous pathways and boardwalks throughout the day while observing the park and wildlife. Buy tickets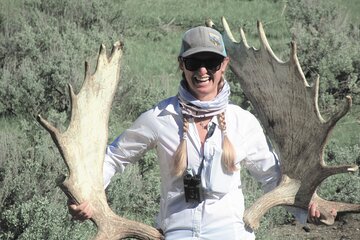 Only few companies offer regular hiking safaris into the Lamar Valley. These guides are experts, and safety is a priority, fun is at the top of the list. Regularly wolves are spottet and other rare wildlife from the trail in the backcountry of Yellowstone. Most tour providers in Yellowstone spend the majority of the day on the road, or very close to the road. This tour are off the beaten path. Buy tickets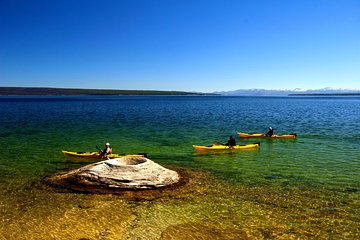 Explore the rocky shores and tranquil waters of Yellowstone Lake on a 6-hour kayak tour with a professional guide. Climb into either a single or double kayak and then set out to discover the beauty of the Lake at a relaxed pace. Scour the rugged shores for native wildlife like elk, moose and bison; watch otters frolic in the warm waters of the lake. Paddle beside the West Thumb Geyser Basin to see incredible geothermic features. No previous kayaking experience is necessary for this excursion. Buy tickets
RECOMMENDED TOURS AND ACTIVITIES
Free cancellations and full refund up to 24 hours before activity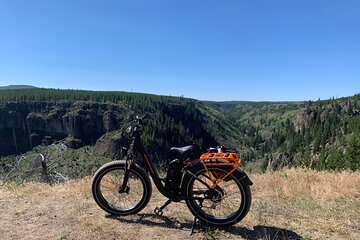 The first E bike tour company operating in Yellowstone National Park. Offer guided tours and daily E bike rentals. Helmet included and no experience necessary for renting E-Bike.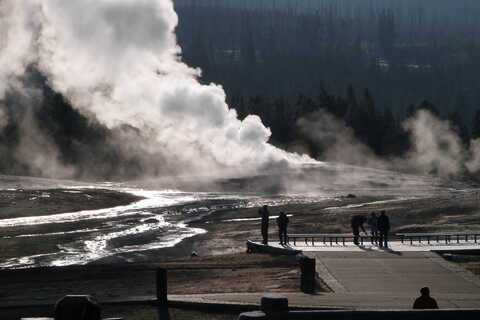 On this 2-day Yellowstone excursion you'll tour both the Upper and Lower loops, seeing all major points of interest. Stay overnight at the historic Chico Hot Springs Resort, or at a cozy hotel in Gardiner. Free Cancellation
Our Special tip: 2 Hour Rafting on the Yellowstone River
Appease your appetite for adventure on a 2-hour rafting adventure of the Yellowstone River from Gardiner. Experience the exhilaration of rafting on the frenetic rapids of the Yellowstone River while admiring the spectacular scenery of Yellowstone National Park. Allow a professional guide to direct you to paddle hard and fast over thrilling rapids and, when you reach calmer sections of the water, stop for a refreshing swim in the Yellowstone River.  
Book our reccommended helicopter tour here
YELLOWSTONE NATIONAL PARK FEATURED:
Where is Yellowstone located?
Yellowstone is located in the states of Wyoming, Montana, and Idaho. The majority of Yellowstone National Park (96 percent) is located within Wyoming. Visitors can access the park from two entrances in Wyoming: the south entrance, located north of Jackson and Grand Teton National Park, and the east entrance near Cody.
See map:
Getting there by air
Yellowstone Airport, the closest option for air travel near Yellowstone National Park, is located just a few miles from the western entrance to the park, in West Yellowstone, Montana. The airport's commercial flights are carried solely by Delta Air Lines, with daily connections to and from Salt Lake City, Utah. Jackson Hole Airport is approximately 45 miles south of Yellowstone National Park, in Jackson, Wyoming. The airport offers daily and weekend flights to and from all over the country
Facts about Yellowstone
Yellowstone was born on March 1, 1872 — making it the world's first national park. It covers 3,472 square miles / 8,991 km2, 63 air miles north to south (102 km) 54 air miles east to west (87 km).  96% of the Park is in Wyoming, 3% in Montana, 1% in Idaho. Highest Point: 11,358 feet (3,462 m; Eagle Peak) Lowest Point: 5,282 feet (1,610 m; Reese Creek.
Entrance Pass to Yellowstone
Buy your Yellowstone National Park site-specific digital pass on Recreation.gov before you arrive. You have immediate access to your digital pass and can easily download it on your phone or tablet. Your pass will also be emailed as a PDF and can be printed out for display when you arrive. Visitors entering Yellowstone's South Entrance will be traveling through Grand Teton National Park first; separate entrance fees are charged.
The following Seven-day passes are sold at all entrance stations:
Private, non-commercial vehicle: $35
Motorcycle or snowmobile: $30
Individual (by foot, bicycle, ski, etc.): $20/person
Yellowstone Weather
Most of the park lies at an elevation of 6,000 feet (1829 m) above sea level, so expect unpredictable weather. Big temperature swings, rain, or snow during every month of the year. No matter when you visit, bring a warm jacket, rain gear, and lots of layers. Always check weather conditions before you go.
Breathtaking National Park
How do you describe an icon? Words can hardly do justice to Yellowstone National Park, one of Mother Nature's finest creations. Dynamic geothermal forces lurking just below the surface gave rise to its dramatic collection of mountains, rivers, canyons, springs and geysers. Surrounded by a tapestry of animals, from the largest mammals to the smallest birds. Its allure is great, evidenced by the hordes who visit every year, but it's possible to carve out a space of your very own in this majestic park if you plan your trip wisely.
Established in 1872 makes Yellowstone not only the oldest but perhaps the most famous National Park in the USA. Sitting in the northwest corner of Wyoming (about 90 kilometers north of Jackson Hole) and stretching over state borders into Idaho and Montana, Yellowstone contains nearly 9,000 square kilometers of crystalline lakes, striking canyons, vast grasslands and thundering waterfalls. However, the park is most famous for its geysers.
Yellowstone National Park welcomes more than 3 million visitors each year who come from all around the world to see Old Faithful erupt, the Mammoth Hot Springs steam and the hundreds of mud pots bubble. The park is beautiful in the summer months, but a visit during the off-season will mean fewer crowds. Another way to find peace and quiet is to stray further from Yellowstone's expansive network of paved roads. The park boasts hundreds of kilometers of hiking trails meandering through the sprawling Lamar Valley and along the ledges of the Grand Canyon of the Yellowstone. The further out you go, the higher your chances of spotting some of the park's famed wildlife, such as bison, elk and bears.
Check Park Operations
Before you go, remember to check Park Operations Update – here https://www.nps.gov/yell/index.htm
Enjoy Yellowstone National Park!