FORT LAUDERDALE TRAVEL GUIDE
Venice of America – Beach, culture and canals
If you want to experience the relaxed but refined beach culture, beautiful nature, art and many beautiful canals, Fort Lauderdale is the right place. Be surrounded by blue skies, swaying palm trees and smiling faces everywhere.
Use our Fort Lauderdale Travel Guide for information, idea and travel tips. Read our travel descriptions and see images and videos for inspiration. We have selected highlighted activities, researched, and verified our partners, so you can enjoy easy andsafe booking – on the GO! 
The Beaches
Fort Lauderdale is unsurpassed with its 23 miles of golden coastline, covering eight beach towns, each offering its own distinctive experience. From the bay-like and family friendly Deerfield Beach, amazing fishing spots on Pompano Beach, retro Hollywood beach and many more, the area ranges widely in taste.
Culture
Head to Gulfstream Park, home to the world-famous Pegasus Cup as well as plenty of shopping and dining options. Catch a Broadway musical at one of the most visited theatres in the world, the Broward Center for the Performing Arts, or an outdoor concert at the Pompano Beach Amphitheatre. At the NSU Art Museum Fort Lauderdale you will find dynamic exhibits of modern works with a collection of 7,000 pieces. Visit the Downtown Hollywood Mural Project to explore the area's creative forces. Sports fans will also be captivated by a cricket match at Central Broward Regional Park & Stadium, while the Florida Panthers professional hockey team can be seen at the BB&T Center in Sunrise
FORT LAUDERDALE TRAVEL GUIDE VIDEO INSPIRATION
RECOMMENDED TOURS AND ACTIVITIES
Free cancellations and full refund up to 24 hours before activity
Where is Fort Lauderdale located?
The City of Fort Lauderdale is situated on the southeast coast of Florida, in the east-central portion of Broward County, apx 23 miles north of Miami and 42 miles south of Palm Beach. See map.
Fort Lauderdale facts
Population apx 180.000. Popular turist destination, with average year round temperature of 75 F and 3000 hours of sunshine. 560 hotels in the county (Broward) hosting 13 million overnight visitors. Nearly 4 million cruise passengers passed through, as the 3rd largest cruise port in the world. Major airport: Fort Lauderdale-Hollywood (FLL).
Useful links: Fort Lauderdale official website – What Wikipedia says about Fort Lauderdale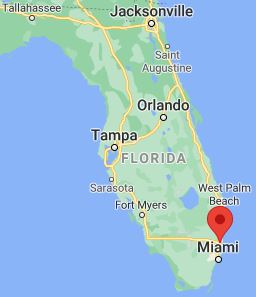 Nature nearby
On the nature side, keep an eye out for alligators as you drive along the famous "River of Grass" in the Everglades. Visit the world's largest butterfly garden and hummingbirds at Butterfly World. Join a guided turtle hike at night to find eggs that hatch. Get around by jumping on the Water Taxi, which includes New River, Fort Lauderdale, Hollywood and Whistle Stop routes. Two excursions – Jungle Queen or Riverfront Cruises – take place on the water in the area's extensive canals.
Shopping
The world's largest designer outlet mall, Sawgrass Mills, is worth a visit, with luxury stores like Prada, Kate Spade, Bloomingdale's Outlet and Saks Off 5th. In addition, Galleria Mall, where you can take either a car or water taxi to find your favourite shops. Stroll through the trendy shops of Las Olas Boulevard, a see-and-be-seen experience.
Dining and nightlife
Sea-to-table cuisine offers seafood caught the same day and prepared for you the Floribbean way. Five-star restaurants and dining experiences on many ​​"Dock and dine" options await you. Fort Lauderdale is a mecca for people who wants to try something different. Enjoy the nightlife at the Seminole Hard Rock Casino, or the underground Lauderdale stage with live music, art and movies.
Enjoy Fort lauderdale!