Get travel tips and book flight, hotel, car rental, attractions, tours, etc.
WHAT TO SEE AND WHAT TO DO IN DETROIT
The Henry Ford Museum, Institute of Arts, Belle Isle Park, Eastern Market, Fox Theatre, Guardian Building, Detroit Zoo, The Heidelberg Project are only a few of things to see and experience in Detroit. Use our Detroit Travel Guide to get travel tips and book flight, hotel, car rental, attractions, tours, sports tickets, concerts, etc. We have researched, selected and verified the best partners for your bookings – easy and safe on the GO.
TOP EXPERIENCES IN DETROIT
DETROIT CALENDAR - WHATS UP NEXT:
DETROIT TRAVEL GUIDE VIDEO INSPIRATION
Facts about Detroit:
Get these answers:


Location and Population
Weather
Population
What is unique
Top attractions
Free things to do
Places to stay
Getting around
The food scene
Nearby experiences
Where is Detroit located?
Detroit is located in the state of Michigan in the United States. It is situated in the southeastern part of the state, on the Detroit River, which separates it from Canada. See map.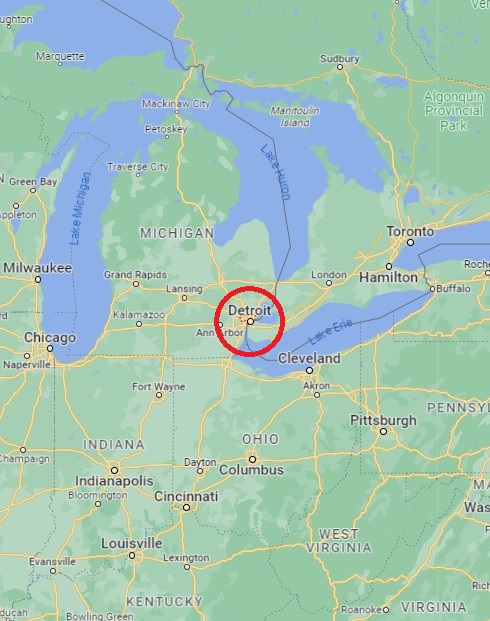 Weather in Detroit
Detroit has a humid continental climate with four distinct seasons. Typical weather in Detroit throughout the year:
Spring (March to May): Spring in Detroit can be unpredictable, with temperatures ranging from cool to mild. Average temperatures range from 0 to 17 degrees Celsius, and precipitation is common, with rain and occasional snow showers.
Summer (June to August): Summers in Detroit are warm and humid, with average temperatures ranging from 17 to 29 degrees Celsius). Thunderstorms are common, and the city can experience occasional heat waves.
Fall (September to November): Fall in Detroit is generally mild and pleasant, with average temperatures ranging from 7 to 18 degrees Celsius. The city is known for its beautiful fall foliage, and the weather is typically sunny and dry.
Winter (December to February): Winters in Detroit are cold and snowy, with average temperatures ranging from typical from -6 to 1 degree Celsius. The city can experience heavy snowfall and occasional blizzards, and temperatures can drop below freezing for extended periods.
How many people live in Detroit?
Detroit has a population of apx. 639,000 people. The Detroit metropolitan area, which includes the surrounding suburbs and nearby cities, has an estimated population of around 4.3 million people.
What is unique about Detroit?
Detroit has a number of unique features that make it stand out among other cities in the United States. Here are some examples:
Automotive history: Detroit is known as the "Motor City" due to its long history as the center of the American automotive industry. Many of the world's largest automakers have headquarters or major operations in the city.
Music: Detroit has a rich musical heritage, particularly in the genres of Motown, techno, and hip hop. Some of the world's most famous musicians, including Stevie Wonder, Aretha Franklin, and Eminem, are from Detroit or got their start there.
Architecture: Detroit has a number of beautiful and unique buildings, including many examples of Art Deco and Gothic architecture. The city also has a number of abandoned buildings that have been repurposed as art installations or community spaces.
Urban farming: Detroit has a thriving urban farming movement, with many residents growing their own food in community gardens and urban farms. This movement has helped to revitalize neighborhoods and provide fresh, healthy food to residents.
Resilience: Despite facing numerous challenges over the years, including economic decline and population loss, Detroit has shown remarkable resilience and has been working to revitalize itself in recent years. The city has a strong sense of community and a "can-do" spirit that is inspiring to many people.
Top attractions in Detroit?
Detroit, also known as the "Motor City", has a rich history and cultural heritage that makes it a great place to visit. Here are the top 10 attractions in Detroit:
The Henry Ford Museum: This museum is dedicated to the history of American innovation and features exhibits on everything from transportation to industry.

Motown Museum: This museum is dedicated to the history of Motown Records, the legendary music label that launched the careers of artists like Marvin Gaye and Diana Ross.

Detroit Institute of Arts: This museum houses one of the largest and most comprehensive art collections in the United States, with works from around the world.

Belle Isle Park: This island park features beautiful gardens, a nature center, and plenty of outdoor recreational activities, including a beach and a golf course. Free

Eastern Market: This historic marketplace is the largest open-air market in the United States and features a wide variety of fresh produce, artisanal goods, and local crafts. Free

Comerica Park: This baseball stadium is home to the Detroit Tigers and features great views of the city skyline.

Fox Theatre: This historic theater is a beautiful example of Art Deco architecture and hosts a wide variety of live performances, including Broadway shows and concerts.

Guardian Building: This skyscraper is a beautiful example of Art Deco architecture and is known for its stunning lobby, which features colorful murals and intricate tilework.

Detroit Zoo: This zoo is home to over 2,000 animals from around the world, including rare and endangered species.

The Heidelberg Project: This outdoor art installation is a unique and thought-provoking exploration of urban decay and revitalization. Free
Free tings to do in Detroit:
Explore the Riverfront: The Detroit Riverfront offers miles of walking and biking paths, as well as parks, fountains, and public art installations. The William G. Milliken State Park and Harbor is a popular spot for fishing and picnicking.

Wander through Eastern Market: Eastern Market is a historic district that features a bustling farmers' market on Saturdays, as well as shops, restaurants, and public art installations.

Take a stroll through Belle Isle: Belle Isle is a large park located in the Detroit River, featuring a beach, a conservatory, a golf course, and a zoo. Admission to the park is free, although there may be fees for certain activities.

Attend a free concert or festival: Detroit has a vibrant music and arts scene, and many free concerts and festivals are held throughout the year. Check above listings for upcoming events
Places to stay as a tourist in Detroit?
Detroit has a variety of accommodations for tourists, ranging from luxury hotels to budget-friendly options. Here are some suggestions for places to stay:
The Westin Book Cadillac Detroit: This historic hotel in downtown Detroit features luxurious accommodations, a spa, and an indoor pool.
The Detroit Foundation Hotel: This boutique hotel in downtown Detroit is housed in a former fire station and features stylish, modern rooms and an on-site restaurant.
The Inn on Ferry Street: This charming bed and breakfast is located in the historic district of Midtown Detroit and offers comfortable accommodations in a beautiful setting.
MGM Grand Detroit: This casino hotel offers luxurious accommodations, a spa, and a wide variety of gaming options.
Trumbull & Porter: This trendy hotel in the Corktown neighborhood offers stylish rooms and a convenient location near many of Detroit's top attractions.
The Shinola Hotel: This boutique hotel in downtown Detroit features luxurious accommodations, a rooftop bar, and an on-site restaurant.
The Atheneum Suite Hotel: This all-suite hotel is located in Greektown and features spacious accommodations, a fitness center, and an on-site restaurant.
The Aloft Detroit at The David Whitney: This modern hotel is housed in a historic building in downtown Detroit and features stylish rooms and a fitness center.
The Detroit Marriott at the Renaissance Center: This hotel is located in the iconic Renaissance Center and offers stunning views of the Detroit River and skyline.
The Element Detroit at the Metropolitan: This extended-stay hotel is located in the heart of downtown Detroit and features modern amenities like a 24-hour fitness center and complimentary breakfast.
Getting around in Detroit:
Detroit has a variety of transportation options for tourists, depending on your preferences and needs. Here are some suggestions:
Car rental: If you plan to explore Detroit and the surrounding areas, renting a car is a convenient option. Alle major car rental agencies located at the Detroit Metropolitan Airport, as well as throughout the city.
Public transportation: The Detroit Department of Transportation (DDOT) operates a bus system that covers the city and surrounding suburbs. The SMART bus system also serves the suburban areas. Additionally, the QLINE is a streetcar that runs along Woodward Avenue, connecting downtown Detroit to the New Center area.
Ride-sharing services: Uber and Lyft are widely available in Detroit and can be a convenient option for getting around the city. Taxis is also an option, but more expensive.
Biking: Detroit has a growing network of bike lanes and trails, making biking a popular way to get around. The MoGo bike share program offers rental bikes throughout the city.
Walking: Many of Detroit's top attractions are located within walking distance of each other in the downtown area. Walking can be a great way to explore the city and take in its architecture and street art.
The Food scene of Detroit:
The food scene in Detroit has been growing and evolving in recent years, with a focus on locally sourced ingredients and creative, innovative dishes. Here are some highlights of the food scene in Detroit:
Coney dogs: A Detroit classic, the coney dog is a hot dog topped with chili, onions, and mustard, typically served with a side of french fries. Two of the most famous coney dog restaurants in Detroit are Lafayette Coney Island and American Coney Island, both located downtown.
Regional cuisine: Detroit has a strong culinary tradition that includes a variety of regional specialties, such as Polish pierogies, Middle Eastern shawarma, and Greek gyros. Many restaurants in the city specialize in these dishes, often with a modern twist.
Craft beer: Detroit has a thriving craft beer scene, with a number of breweries and taprooms offering locally brewed beers. Some of the most popular breweries in the city include Founders Brewing Co., Atwater Brewery, and Motor City Brewing Works.
Farm-to-table dining: Detroit is surrounded by fertile farmland, and many restaurants in the city take advantage of this by sourcing their ingredients from local farms and food producers. This focus on fresh, locally grown ingredients is a hallmark of many of Detroit's best restaurants.
Food halls: Detroit has several food halls that offer a variety of dining options in one location, including the Detroit Shipping Company, the Fort Street Galley, and the Eastern Market Shed 5.
Vegan and vegetarian options: Detroit has a growing number of restaurants that specialize in vegan and vegetarian cuisine, reflecting the city's commitment to healthy eating and sustainability.
Overall, the food scene in Detroit is diverse and exciting, with something to suit every taste and budget.
Nearby experiences
Ann Arbor: Located about 45 minutes west of Detroit, Ann Arbor is a vibrant college town that is home to the University of Michigan. Visitors can explore the university's museums and gardens, stroll through the historic downtown area, or enjoy the city's many parks and nature areas.
Windsor, Ontario: Just across the river from Detroit is Windsor, Ontario, a Canadian city with a rich history and cultural scene. Visitors can take a stroll along the waterfront, explore the city's museums and galleries, or enjoy the lively nightlife and dining scene.
The Great Lakes: Detroit is located near several of the Great Lakes, including Lake Michigan and Lake Erie. Visitors can enjoy a range of outdoor activities, such as boating, fishing, and hiking, or simply take in the stunning natural scenery.
Mackinac Island: Located about 4 hours north of Detroit, Mackinac Island is a popular tourist destination that offers a unique glimpse into the past. Visitors can explore the island's historic architecture, take a horse-drawn carriage ride, or indulge in the island's famous fudge.
Toledo, Ohio: Located about an hour south of Detroit, Toledo is a city with a rich industrial and cultural history. Visitors can explore the city's museums and galleries, including the Toledo Museum of Art, or take a stroll along the Maumee River waterfront.
Enjoy Detorit!