UNITED STATES VIRGIN ISLANDS TRAVEL GUIDE
What to see and what to do in U.S. Virgin Islands
Saint Croix, Saint John, Saint Thomas, Charlotte Amalie, Christiansted, Frederiksted, are only a few of many amazing places in U.S. Virgin Islands. Use our U.S. Virgin Islands Travel Guide for information, idea and travel tips. Read our travel descriptions and see images and videos for inspiration. We have selected the best tours and activities for you, and we give our recommendations. We have researched, testet and and verified our partners, so you can enjoy easy and safe booking – on the GO!
VIRGIN ISLANDS VIDEO INSPIRATION
RECOMMENDED TOURS AND ACTIVITIES
Where is the Virgin Islands located?
The Islands are located in the Atlantic Ocean, about 40 miles (64 KM) east of Puerto Rico and west of the British Virgin Islands
United States Virgin Islands facts
The U.S. Virgin Islands consists of the main islands of Saint Croix, Saint John and Saint Thomas. The total land area of the territory is 133.73 square miles (346.36 km2). The territory's capital is Charlotte Amalie on the island of St. Thomas.
In 2021 the estimated population is apx 105,000. Most of the population being of Afro-Caribbean descent. Tourism and related categories are the primary economic activities.
The U.S. Virgin Islands are organized under the 1954 Revised Organic Act of the Virgin Islands and have since held five constitutional conventions.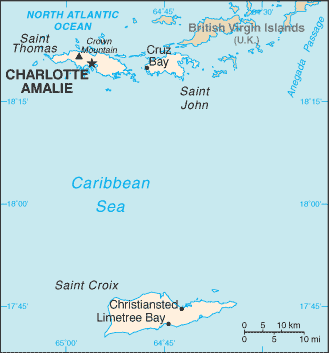 Exotic islands in the Caribbean
The US Virgin Islands a group of exotic islands located in the Caribbean Sea. The islands was bought from the Kingdom of Denmark in 1917, and is now a US territory. Before 1917 the islands was called The Danish West Indies, and was a colony of Denmark. The islands consist of three main islands – St. Croix, St. John and St. Thomas – plus apx. 50 smaller islands in the Caribbean sea.
The US Virgin Islands is located 1,100 miles from Miami and 1,650 miles from New York City. Thus, it is only a short flight from the continental United States. The beautiful landscape is called "America's Paradise." A year-round destination that has no real "off" season with an average winter temperature of 82 degrees F. (slightly higher in summer). Here the weather is almost always perfect for the beach. The islands are famous for its beautiful white sandy beaches and turquoise waters. Spend the day relaxing in a beachchair and enjoy a top 10 beach in the world.