Get travel tips and book flight, hotel, car rental, attractions, tours, etc.
WHAT TO SEE AND WHAT TO DO IN ARKANSAS
Little Rock, Eureka Springs, Crystal Bridges Museum of American Art, Hot Springs National Park, Buffalo National River, Mount Magazine State Park, Historic Bathhouse Row are only a few of places and things to experience in the great state of Arkansas. Use our Arkansas Travel Guide for information, idea and travel tips. Read our travel descriptions and see images and videos for inspiration. We have selected the best tours and activities for you, and we give our recommendations. We have researched, testet and and verified our partners, so you can enjoy easy and safe booking – on the GO!
ARKANSAS TRAVEL GUIDE VIDEO INSPIRATION
Facts about Arkansas
Introduction
Location and population
Major airports
The weather
Top 10 biggest cities
Top National Parks
Top 10 attractions
Notable Road Trips
Local cuisine
Top 5 cities to visit as a tourist
Major events and festivals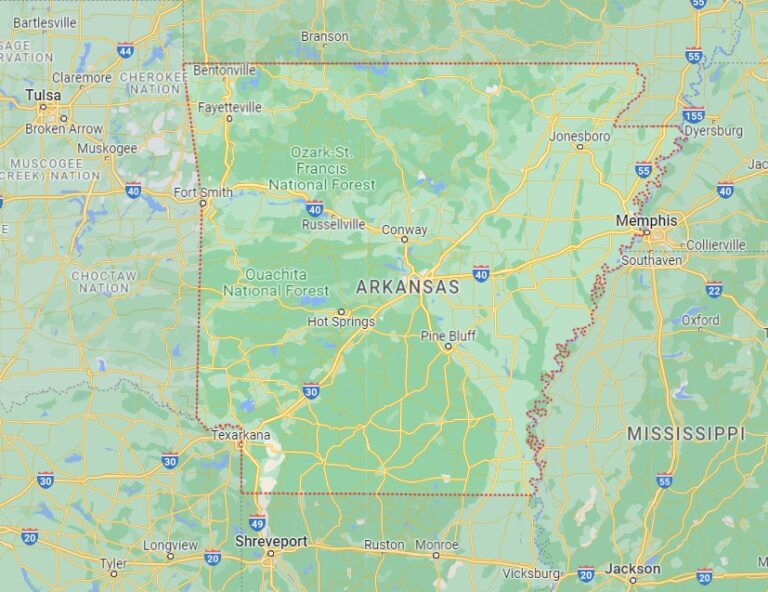 Introduction
Welcome to the Natural State, where the beauty of the South meets the charm of the Midwest! Arkansas is a hidden gem nestled in the heart of America, and we're thrilled to introduce you to all that this incredible state has to offer.
Scenic Wonders: Imagine waking up to breathtaking views of the Ozark Mountains or watching a mesmerizing sunset over the Mississippi River. In Arkansas, you'll find some of the most awe-inspiring landscapes in the country. From the rugged beauty of the Buffalo National River to the lush forests of the Ouachita Mountains, our state is a paradise for nature enthusiasts.
Outdoor Adventures: For those seeking adventure, Arkansas is an outdoor playground. Hiking, biking, kayaking, and rock climbing are just a few of the activities that await you in our state parks and wilderness areas. Whether you're a thrill-seeker or a leisurely explorer, there's something for everyone here.
Cultural Riches: Arkansas boasts a rich cultural heritage with a blend of Native American, European, and African influences. Explore our historic small towns and vibrant cities, each with its own unique character. Don't miss the chance to visit the Clinton Presidential Library, experience the vibrant music scene in Hot Springs, or immerse yourself in the Delta Blues culture.
Culinary Delights: Foodies, get ready to savor the flavors of Arkansas! Our state is known for its delicious Southern cuisine, including mouthwatering barbecue, fried catfish, and homemade pies. You'll also find a burgeoning farm-to-table movement, with restaurants featuring locally sourced ingredients.
Warm Southern Hospitality: One of the true treasures of Arkansas is its warm and welcoming people. Experience the genuine Southern hospitality that makes visitors feel like part of the family. Whether you're chatting with locals at a roadside diner or exploring a charming small town, you'll find that the people here are as delightful as the scenery.
Year-Round Appeal: Arkansas is a state for all seasons. Whether you're visiting in the spring when wildflowers blanket the landscape, basking in the summer sun on our beautiful lakes, enjoying the colorful foliage in the fall, or experiencing the peaceful serenity of winter, there's always something to see and do.
So, whether you're looking for outdoor adventures, cultural experiences, or simply a place to relax and unwind, Arkansas has it all. Come discover the wonders of the Natural State and create memories that will last a lifetime. Arkansas is waiting to welcome you with open arms
Location and Population:
Arkansas is located in the southern region of the United States, bordering Missouri to the north, Tennessee to the east, Mississippi to the southeast, Louisiana to the south, Texas to the southwest, and Oklahoma to the west. As of my last knowledge update in September 2021, Arkansas had an estimated population of around 3 million people.
Major Airports:
Arkansas is served by several major airports, including:
Bill and Hillary Clinton National Airport (Little Rock)
Northwest Arkansas National Airport (Bentonville)
Fort Smith Regional Airport (Fort Smith)
Weather:
Arkansas experiences a humid subtropical climate. Summers are typically hot and humid, while winters are generally mild with occasional snowfall in the northern regions. Spring and autumn offer pleasant, mild weather.
Top 10 Biggest Cities with Population Numbers:
Little Rock – Approximately 197,800
Fort Smith – Approximately 87,600
Fayetteville – Approximately 90,000
Springdale – Approximately 81,000
Jonesboro – Approximately 78,000
North Little Rock – Approximately 65,900
Conway – Approximately 68,000
Rogers – Approximately 67,600
Pine Bluff – Approximately 43,200
Bentonville – Approximately 56,700
Top National Parks:
Buffalo National River
Hot Springs National Park
Crater of Diamonds State Park (not a national park but noteworthy)
Ouachita National Forest
Cane River Creole National Historical Park (part of it is in Arkansas)
Top 10 Attractions:
Crystal Bridges Museum of American Art
Hot Springs National Park
Buffalo National River
Thorncrown Chapel (Eureka Springs)
Clinton Presidential Library (Little Rock)
Garvan Woodland Gardens (Hot Springs)
Blanchard Springs Caverns
Arkansas Wine Country (Altus and surrounding areas)
Mount Magazine State Park
Historic Bathhouse Row (Hot Springs)
Notable Road Trips/Scenic Drives:
Talimena Scenic Drive through the Ouachita Mountains
Pig Trail Scenic Byway
Crowley's Ridge Parkway
Great River Road along the Mississippi River
Highway 7 Scenic Byway through the Ozark Mountains
Local Cuisine:
Arkansas is known for its Southern cuisine, including dishes like fried catfish, barbecue, biscuits and gravy, and cornbread. Other regional specialties include cheese dip, tamales, and farm-fresh produce.
Top 5 Cities to Stay as a Tourist:
Little Rock – The capital city with cultural attractions and great dining.
Hot Springs – Famous for its thermal baths and historic downtown.
Eureka Springs – A charming, Victorian-era town in the Ozarks.
Fayetteville – Home to the University of Arkansas and a vibrant arts scene.
Bentonville – The headquarters of Walmart, with the Crystal Bridges Museum.
Major Events and Festivals:
Bikes, Blues & BBQ (Fayetteville) – One of the largest motorcycle rallies in the U.S.
Hot Springs Documentary Film Festival – A showcase of documentary films.
Arkansas State Fair (Little Rock) – Celebrates agriculture, entertainment, and food.
Toad Suck Daze (Conway) – A family-friendly festival with music, food, and games.
King Biscuit Blues Festival (Helena-West Helena) – Celebrates the blues with renowned musicians.
Enjoy Arkansas!