What to see and what to do in Arizona?
Grand Canyon, Flagstaff, Sedona, Phoenix, Antelope Canyon, USS Arizona, Mesa, Tucson, Hoover Dam are only a few of many amazing places in Arizona. Use our Arizona Travel Guide for information, idea and travel tips. Read our travel descriptions and see images and videos for inspiration. We have selected the best tours and activities for you, and we give our recommendations. We have researched, testet and and verified our partners, so you can enjoy easy and safe booking – on the GO!
Arizona Calender - what's up next:
ARIZONA VIDEO INSPIRATION
Capital: Phoenix – 1.6 million inhabitants, the 5th largest city in the United States. 4.9 million inhabitants in the Phoenix surrounding area.
What is the Population of Arizona? 7.3 million (2019)
How big is Arizona's area? 295,254 km2. United States 6th largest state.
Highest point: 3851 meters
22 national parks, most famous is the Grand Canyon with 6 million visitors annually.
See map: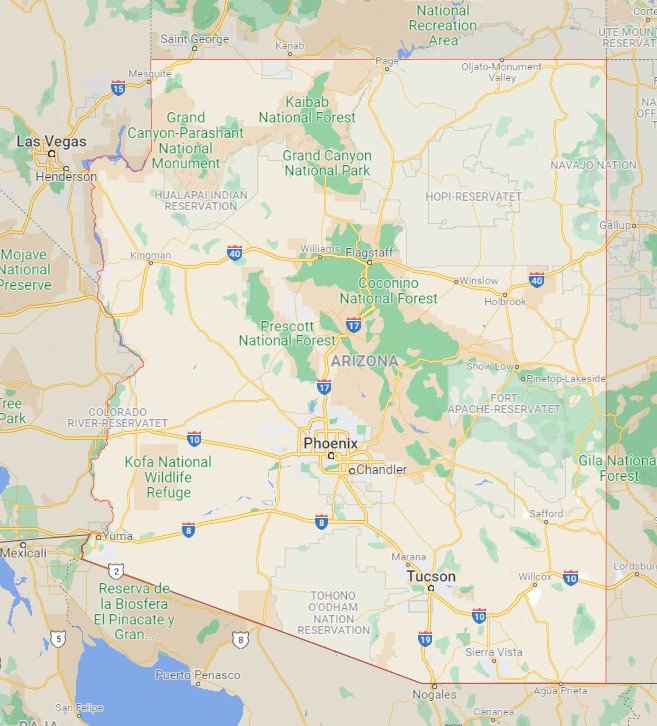 Arizona history:
Arizona's history is defined by Indians, adventurers, and stories from the Old West. Today, populations from 22 Native American communities live in Arizona. You can visit tribal areas, American Indian museums and cultural centers, where you can buy jewelry and works of art created by American Indians. Travel back to the Old West with a trip to one of the state's ghost towns to learn about Arizona's mining history. Or explore the attractions along the road on the old Route 66, the historic highway known as Mother Road. In Arizona, Route 66 winds through Petrified Forest National Park, Kaibab Plateau, Meteor Crater, Grand Canyon Caverns and more.
What to do in Arizona?
You will find great opportunities for outdoor activity in Arizona. Start your outdoor adventure in Arizona at the Grand Canyon National Park, one of the seven wonders of the world. If you fly to Phoenix Sky Harbor Airport (PHX), it's about three and a half hours by car to the canyon's South Rim, the park's most visited area. Stop at one of the visitor centers or at the Yavapai Geology Museum. Here you can learn about the area's unique topography. Get help from a tour guide for a tour of the Grand Canyon or try one of the many other natural beauties of Arizona: from jeep tours in Sedona to river tours on the Colorado River to horseback rides in the Monument Valley.
Arizona also has fascinating cities that offer lots of cosmopolitan attractions. Whether you love wine and food, luxury spas, art galleries or shops, you will find it. Visit one of the state's award-winning wineries. Book a table at one of the many high-end restaurants in Phoenix, the state's largest city. Plan an unforgettable spa day in Sedona, a city known for its wellness offerings. Or spend a day enjoying Western art at the Tucson Museum of Art. Golfers will love playing some rounds on one of the state's 300 courses.
Arizona has rushing rivers, snow-capped mountains, Ponderosa Pine and untouched lakes. It's a destination that offers a combination of outdoor adventure and urban excitement. Hike in the red cliffs and alpine forests. Drive across the desert on Historic Route 66, or treat yourself with spa & wellness. Whether you're looking for Old West history, improving your golf game or to check out designer stores, you can find it in Arizona. 
Enjoy Arizona!