Grand Canyon Travel Guide
What To See and What To Do in Grand Canyon
Mather Point, Toroweap Overlook, breathtaking landscapes, South and North Rim and Colorado River are only a few of the things to see and experience in Grand Canyon. We have selected the best tours and activities, and you will find our recommendations in this Guide. We have researched and picked out the best, trusted and varified booking providers. Book online and easy and on the GO!
HIGHLIGHTED RECOMMENDATIONS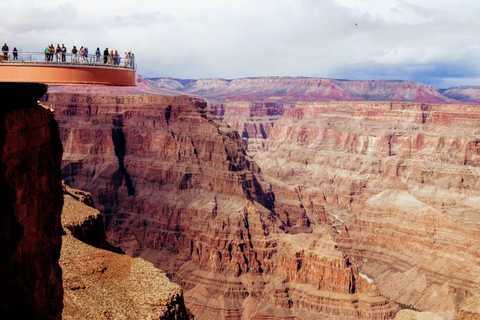 Experience the beauty of the Grand Canyon West on a bus tour from Las Vegas Discover nature's miracle at locations such as Guano Point and Eagle Point. Enjoy the Skywalk views of the Grand Canyon, then, stop at the Hoover Dam to take souvenir photos. Buy Tickets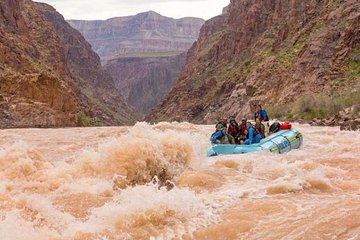 Thrilling adventure – guided whitewater rafting trip down the Colorado River at Grand Canyon. Challenge the mighty varied rapids on a 40-mile (64-kilometer) journey through the canyon, taking a side hike to a travertine waterfall along the way. Buy Tickets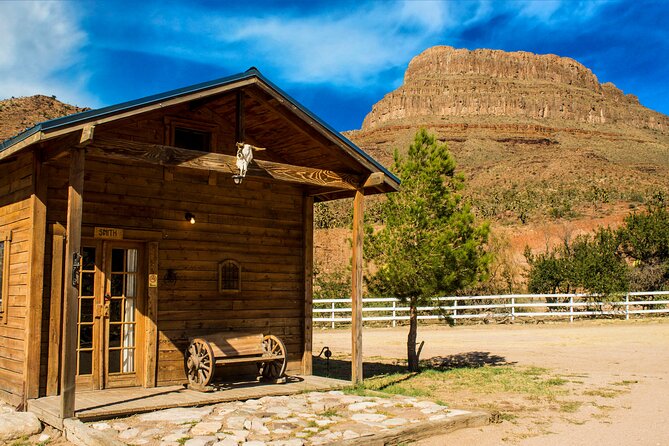 Get a real-life cowboy experience on an overnight at the Grand Canyon Western Ranch. Choose between a horseback ride and campout, or a comfortable cabin stay. You'll enjoy an evening of Old West stories and cowboy songs by a blazing campfire, under the stars. Buy Tickets
RECOMMENDED TOURS AND ACTIVITIES
Free cancellations and full refund up to 24 hours before activity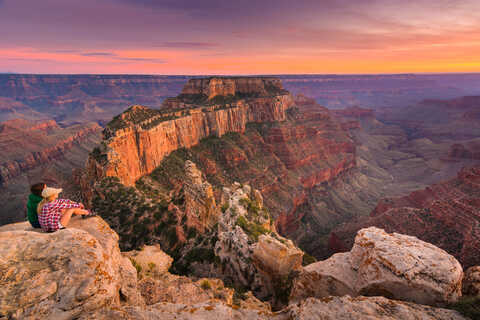 Enjoy a comfortable motor coach ride with breakfast snacks and lunch from Las Vegas, NV, to the Grand Canyon National Park, South Rim. Spend approximately 3 hours in the Grand Canyon. Read more and book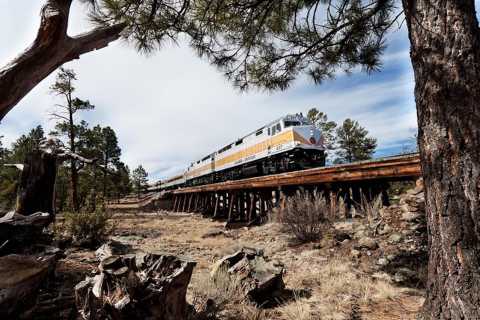 Beginning in Sedona with its iconic red rocks, take one of the top 10 scenic drives in America. Ride the historic Grand Canyon Railway, then explore the natural beauty of Grand Canyon National Park. Read more and book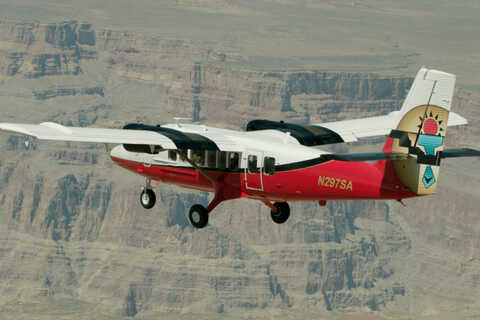 Experience Grand Canyon from the air. Your flight will leave from the Park Terminal and take you over the Kaibab Forest and Plateau, Little Colorado River, Imperial Point and Zuni Corridor. Read more and book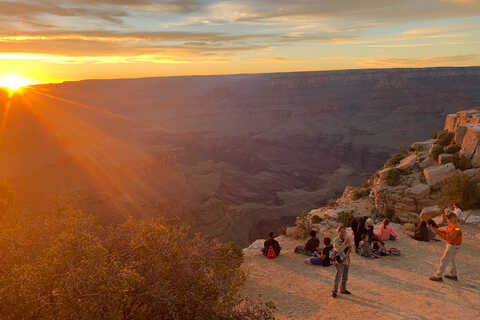 Discover Grand Canyon National Park at the most majestic time of day, sunset. At golden hour, the Grand Canyon comes alive with striking colors, incredible shadows, and moving light. Read more and book
Our Special tip: Helicopter Tour of West Rim
From Grand Canyon Airport at Tusayan, Arizona head out for a fantastic 45-minute helicopter flight over the magnificent beauty of the Grand Canyon. From the South Rim of the Grand Canyon, you will soar above the Kaibab National Forest for some amazing views of the Marble Canyon and Point Imperial. Watch as the South Rim gradually drops away, providing one of the most memorable views of the entire canyon. As you climb above the North Rim, experience fabulous views before heading south through the Dragon Corridor, the widest and deepest part of the canyon. In the distance, you will see the Painted Desert and the Desert View Watchtower. Your flight then follows the Colorado River upstream to where it merges with the Little Colorado River. Back over the Kaibab National Forest, and on to Tusayan. Relax as you take in the views from a state-of-the-art ECO-Star Helicopter with individual leather seats, wrap-around glass for outstanding visibility, and exceptional noise-reduction features both inside and out.
Book our reccommended helicopter tour here
Where is Grand Canyon located?
Grand Canyon is in the northwest corner of Arizona, close to the borders of Utah and Nevada. It is located about 130 miles from the heart of Las Vegas. On average, the drive takes approximately two and a half hours. Both the North Rim and South Rim (the two rims of Grand Canyon National Park) are located over 270 miles from the Las Vegas Strip. On average, both drives take approximately four and a half hours.
See map:
Facts about Grand Canyon
The Grand Canyon  is a mile-deep canyon (1.6 km), with an average average distance across the canyon of 10 miles/ 16 km. It takes 5 hours to drive the 215 miles / 346 km between the park's South Rim Village and the North Rim Village. 90% of Travelers Visit Grand Canyon National Park's South Rim
Entrance Pass to Grand Canyon
Buy you entrance pass on Recreation.gov. Whether you're planning a single visit or coming back multiple times a year, buy a Digital Pass before you arrive. You have immediate access to your digital pass and can easily download it on your phone or tablet. Your pass will also be emailed as a PDF and can be printed out for display when you arrive.
Prices:
Private Vehicle ($35 valid for 7 days)
An online pass will admit everyone traveling with you in your car or personal vehicle.
Motorcycle ($30 valid for 7 days)
Individual (bicyclist, hiker, pedestrian) ($20 valid for 7 days)
Annual – Grand Canyon Only ($70)
Grand Canyon weather
The South Rim is 7,000 feet above sea level, which means snow in winter and cool nights even in summer. However, when hiking at Grand Canyon, you'll experience warmer temperatures in the summer along the Colorado River as temperatures can reach 120 ºF / 47 ºC. Weather is particularly changeable in spring and fall; visitors should be prepared for a variety of climates.
Check current weater conditions: here
Check 5 days weather forecast: here
Breathtaking Grand Canyon
Both breathtaking and overwhelming at the same time, Grand Canyon is a testament to 2,000 million years of geological history. Grand Canyon National Park in northern Arizona is no doubt on every traveler's must-see list. This UNESCO World Heritage Site is arguably one of the USA's most famous landmarks. It encompasses nearly 5,000 square kilometers of plummeting canyons, multicolored rocks, dramatic cliffs and stunning ravines.

There are plenty of overlooks from which you can admire the view, including Mather Point and the Toroweap Overlook. Even though the favorite activity at Grand Canyon is to stand on the edge and overlook the beautiful landscape, there are many other ways to enjoy the park's natural splendor. Take a mule ride along the South Rim trail or take a white-water rafting trip down the Colorado River. Alternatively, you can admire the canyon from above on a helicopter tour, which you can book via our site.
Check Park Operations
Before you go to Grand Canyon check Park Operations Update: here
Enjoy Grand Canyon!