Get travel tips and book flight, hotel, car rental, attractions, tours, etc.
What to see and what to do in Florida?
Miami, Fort Lauderdale, Orlando, Key West, Fort Myers, Tampa Bay are only a few of many amazing places in Florida. Use our Florida Travel Guide for information, idea and travel tips. Read our travel descriptions and see images and videos for inspiration. We have selected the best tours and activities for you, and we give our recommendations. We have researched, testet and and verified our partners, so you can enjoy easy and safe booking – on the GO!
FLORIDA TRAVEL GUIDE VIDEO INSPIRATION
The Capital in Florida: Tallahassee – 196.000 inhabitants
Population in Florida: 21,5 million
Florida area: 269.601 km2, 451 km wide and 612 km long
Biggest city in Florida: Jacksonville (950.000), other big cities; Miami (442.000), Tampa (385.000), Orlando (307.000), St. Petersburg (258.000)
Highest elevation in Florida: 105 m, Britton Hill
National Parks of Florida: Everglades, Dry Tortugas, Biscayne. Total 11 National Parks in Florida
Florida is know as "Sunshine State"
See map: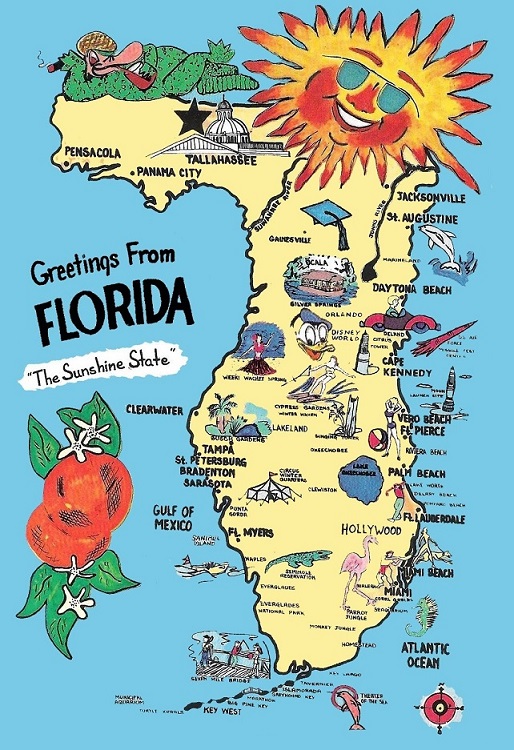 Florida is located in the southeastern region of the United States. The state borders the Gulf of Mexico to the west, northwest to Alabama, north to Georgia, east to the Bahamas and the Atlantic Ocean, and south to the Straits of Florida and Cuba. It is the only state bordering both the Gulf of Mexico and the Atlantic Ocean. Florida stretches over 170,310 km2 and is the 22nd largest state.
The population is over 21 million and the 3rd most populous. Most populous area is Miami metropolitan area, with a population of over 6 million. Other metropolitan areas with over a million people are Tampa Bay, Orlando and Jacksonville.
Since the mid-20th century, Florida has experienced rapid demographic and economic growth. Its economy is the 4th largest in the United States and the 16th largest in the world.
Florida is world famous for its seaside resorts, theme parks, warm and sunny climates. Attractions such as Walt Disney World, Kennedy Space Center and Miami Beach attract thousands of visitors every year. Florida is a popular destination for retirees and vacationers from both the US and abroad.
Florida has attracted or inspired writers like Marjorie Kinnan Rawlings, Ernest Hemingway and Tennessee Williams. The state continues to attract celebrities and athletes, especially in golf, tennis, car racing and water sports.