What to see and what to do in Lake Tahoe?
Lake Tahoe is a high altitude and beautiful mountain lake in the Sierra Nevada mountains, on the border of California and Nevada. Located at an altitude of 1,897 meters, Lake Tahoe is widely considered one of the most beautiful places in the world. This natural treasure offers the ultimate highland experience with excellent outdoor recreation and magnificent scenery all year round. See this Lake Tahoe Travel Guide for information, ideas and travel tips.
Lake Tahoe activities and tours
LAKE TAHOE VIDEO INSPIRATION
Lake Tahoe is entertainment for all ages
Take a boat trip around Emerald Bay on a ship from the early 1900s. Get spoiled with great dining, signature cocktails and stunning views. South Lake Tahoe's Heavenly Village is the place to buy Lake Tahoe souvenirs and Sierra-style fashion. You can also enjoy a nice lunch or dinner, ice skating or go to the cinema. Close by, you can jump across the state border to Nevada to gamble and experience adult entertainment. Lake Tahoe is really the place for all.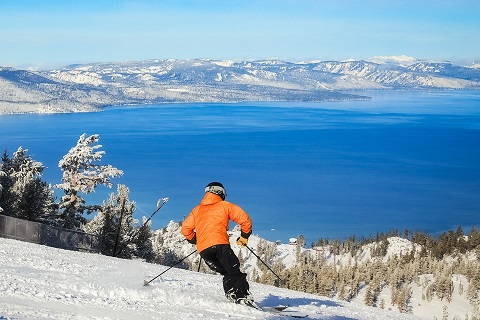 12 great places to ski in California
California has many ski resorts – the largest are centered around Lake Tahoe. The ski resorts in California offer excellent skiing – in fact, many of California's ski resorts are on par with the best ski resorts in Colorado and even in Europe. Read more